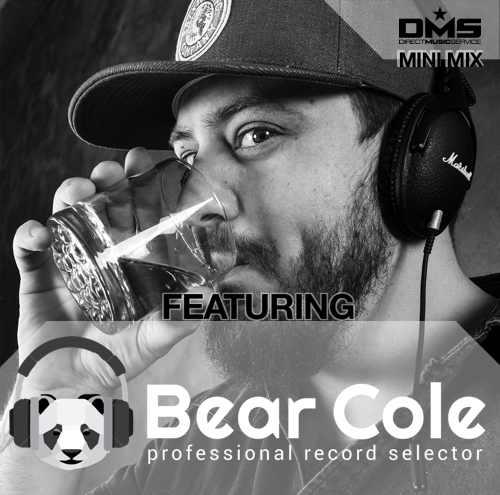 Mix #313 we bring you DJ BEAR COLE from Arizona. He started his DJ career with two cassette players, two CD players, and a Tascam 4 Track Recorder. The year was 1993. He worked up to his first pair of Technics, and then his first professional gig in 1997. Quickly gaining speed and playing clubs, bars, concerts, and events all over the Southwest. Bear has worked as the head resident for clubs in Scottsdale, Las Vegas, and more. Spinning records paid his rent for over 10 years and his way through college.
He holds degrees in Audio & Studio Engineering, Web & Graphic Design, and Web Development. He has worked in the music industry as a DJ, Producer, Songwriter, MC, Promoter, Entertainment Consultant, Business Owner, and Manager. He is a music fan first, and a DJ second.
He calls his style Shuffle Play. This is because his normal set will play just like someones record collection, iTunes, or Spotify would if you put it on Shuffle. Nobody listens to one genre, style, or type of artist. So he quickly hops between decades, styles, and genres. He can slam things you would never expect into a cohesive and danceable set, and loves his listeners to be surprised.
3 words he always keeps in mind – Funky, Danceable, Sexy.
DJ Bear Cole plays multiple weeklies, curates a radio station GrabBagLive.com, and is the General Manager of a Mobile DJ Company Peaks ProEvent Services in Flagstaff Arizona. He is an Entertainment Consultant for multiple venues, and helps serve Clubs, Bars, Weddings, School Dances, and Corporate Events. He still loves to play out weekly, but prefers training new DJs and helping them learn how to make a living in the industry.
For more information about DJ BEAR COLE click the links below:
Check out the tracklist after the jump with links to download all of the edit's he used in this mix. Be sure to check back every Monday for a brand new mix.
TRACKLIST
'Til It's Over – Anderson Pack
Skywalker – Miguel
Cold War – Cautious Clay
God's Plan (Lemi Vice & Action Jackson Remix / Dirty) – Drake
Plain Jane (Spryte "Carry Out" Bootleg / DIRTY) – A$AP Ferg
Family Affair (The Niceguys Remix) – Mary J. Blige
No Diggity (Chromak RMX / Intro) – Blackstreet
No Limit (Throwback Blend / Dirty) – G-Eazy ft. A$AP Rocky & Cardi B
Where The Party At (Bootleg) – Jagged Edge ft. Nelly
No Sleep – Trinix
Nevermind – Dennis Lloyd
Milk & Honey – Tropkillaz feat. Aloe Black
I Miss You – Clean Bandit ft. Julia Michaels
Motley Crew (Whiiite Remix) – They.
Congratulations (BIA Bootleg / Dirty / Short Edit) – Post Malone vs Holy Ghost
Over & Under (Short Edit) – Party Pupils
I Can't Lose ft. Keyone Starr (Pomo Remix) – Mark Ronson
New Rules (Freedo Remix) – Dua Lipa
Cola (ZHU RMX / Cutdown) – CamelPhat
Breathe (PeteDown RMX / Short Edit) – Jax Jones ft Ina Wroldsen
D.Y.T. (Do Your Thing) – NVDES ft REMMI
Podcast: Play in new window | Download | Embed