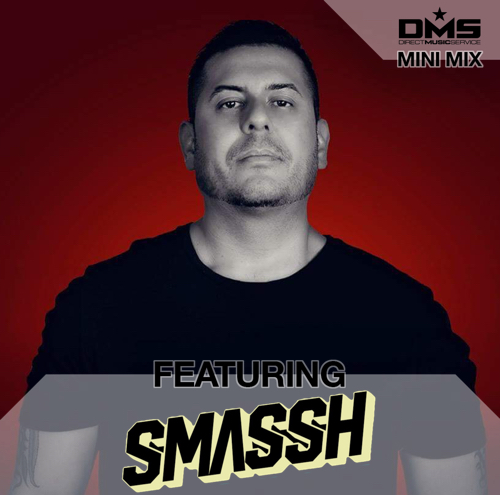 Mix #296 we bring you DJ SMASSH from Scottsdale, Arizona. Bringing nothing but pure hi-energy music from start to finish of every set with the ability to incorporate multiple types of genres with ease. Smassh's open format abilities has given him the opportunity to perform in concerts venues with artist like Lazertag, Polish Ambassador, Ying Yang Twins, YG, Dada Life, Teeflii, Mally Mall and Carnage. Smassh has held residencies at Martini Ranch,Intl, Hifi and is currently a resident dj at one of old town scottsdale's top venues bottled blonde and bevvy. However DJing alone was not enough for Smassh and has collaborated with Anonymous Studios in burbank california in turn allowed smassh to produce his own custom dj edits that have been recognized and streaming from both the DJ community and music record pools. Smassh continues to expand and focus on creativity and his abilities to make rock the crowd set by set. Listen to his exclusive mix he made for us at DMS.
For more information about DJ SMASSH click the links below:
Check out the tracklist after the jump with links to download all of the edit's he used in this mix. Be sure to check back every Monday for a brand new mix.
Track List:
1.Bottle Poppa (Spryte Frankenstein Bootleg/Dirty/Super Short Edit) – Fatman Scoop, KnowleDJ & Deceptaconz, Jpan x Ozmo
2.Playa's Only (Jpan Remix/Clean) – R.Kelly feat The Game
3.Hit The Road (Reece Low Bootleg)Clean – Ray Charles
4.Heads Will Rockin Roll (DJ Scene Bootleg) – Yeah Yeah Yeahs x Alpharock & RetroVision
5.Night Of The Crowd (DJ SMASSH Short Edit) Dirty – Migos x Julian Jordan & Steff De Campo
6.Bodak Yellow (Deville Peakhour Bootleg) Dirty – Cardi B, Diplo, Ricky Remedy
7Humble (Deville Jersey Trap Remix) Dirty – Kendrick Lamar x Skrillex
8.My Confessions Pt II (Jpan Trap Remix) Dirty – Usher
9.Rockstar (Mister Gray Trap Remix) Dirty – Post Malone ft 21 Savage)
10.No Problem (Mister Gray & Michael Methods Bootleg) Dirty – Lil Scrappy
11.No Limit (Mr Collipark Remix) Dirty – G-Eazy x A$AP Rocky x Cardi B
12.Unforgettable (Audio1 & Fraze Remix) Dirty – French Montana ft Swae Lee
13.Despacitio (Mister Gray Remix) Clean – Luis Fonsi & Daddy Yankee ft Justin Bieber
14.Gold (Intro) – Valentino Khan & Sean Paul
15.Mi Gente (Hardwell & Quintino Remix) – J Balvin & Willy William
16.Push The Feeling On (Festival Mix/Short Edit) – Sounds Of Legend
17.Time to Jack (Super Short Edit) – TJR
18.The Rhythm Of The Night (Sam Halabi RMX/Short Edit) – Corona
19.Better On Me (Joe Maz Remix) – Pitbull ft. Ty Dolla $ign
20.Wolves (KUE Remix) – Selena Gomez & Marshmello
21.Feeling Me (DJ SMASSH Hum With Me Bootleg) – Toak x John De Sohn
Podcast: Play in new window | Download | Embed