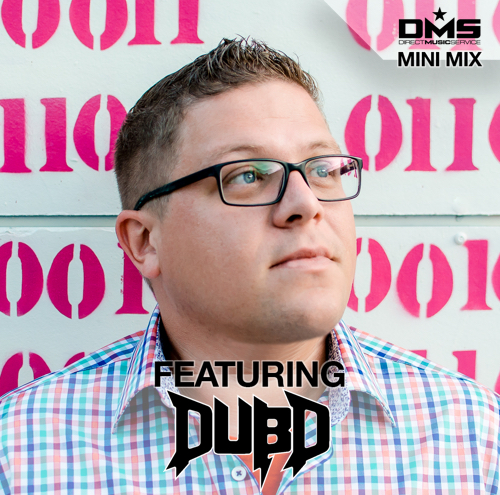 Mix #297 we bring you DUB D from Des Moines, Iowa. After picking up the craft a little over a decade ago, he has become a staple of Iowa nightlife spinning at some of the most popular establishments in the state. Coming from a small town bar background, he is able to utilize skills that are often overlooked such as early evening music selection and how to read a crowd. Couple that with a diverse music selection and knowledge of many genres, and he can get a crowd moving no matter the occasion. Residencies have included People's Court, Blue Moose Taphouse, Lime Lounge, Voodoo Lounge, and Hush Silent Disco amongst many others. Also a member of the duo Beat Resonance, along with Nemo Junglist, he has hit the festival stage at 515 Alive (Des Moines) many times, focusing on electronic music with a heavy infusion of mainstream stylings and vocal elements. Stream this exclusive mix DUB D made for us at DMS.
For more information about DUB D click the links below:
Check out the tracklist after the jump with links to download all of the edit's he used in this mix. Be sure to check back every Monday for a brand new mix.
Track List:
1. Wanna Be Startin' Something (Jet Boot Jack RMX) – Michael Jackson
2. Lady (Reece Soma Remix) – Modjo
3. Calle Ocho (Danny Diggz 2K17 Bomb Bootleg) – Pitbull vs The Bucketheads x Marat Leon
4. 75 Brazil BOOM (H4CKED Bootleg) – Tiesto & Sevenn x Nicola Fasano & Patrich
5. Nasty Freak (Ben Rainey Bootleg) – Chic x Notorious B.I.G
6. Drinkin All Night (Flosstradamus 4 Chicago Bootleg) – Chance The Rapper x Cajmere x Pep & Rash
7. OMG Light it Up (Danny Diggz Moombahton / Twerk Blend) – Major Lazer vs Sak Noel
8. OMG Get Busy (Danny Diggz Moombahton / Twerk Blend) – Sean Paul vs Sak Noel
9.Gas Pedal (Diggz Saxotron Moombahton Bootleg) – Sage The Gemini vs. Krajno
10.Hey Ma (Mr. Butter & DJ Classified Remix / Clean) – Cam'ron
11.Semi Closer Life (Dub D Mashup) – Chainsmokers x Third Eye Blind
12.Stay (Scooter Mix) – Zedd & Alessia Cara
13.Rich Girl (Kees Sjansen Moombahton Remix) – Gwen Stefani
14.Fuck It Up – YG
15.Mi Gente (Dillon Francis Moombahton RMX / Spanish) – J Balvin & Willy William
16.Mi Gente (Spryte Rollercoaster Bootleg / Spanish) – J Balvin & Willy William x Henry Fong x Steve Aoki
17.B.Y.O.B. (Future Class Bootleg Remix) – System Of A Down
18.Heads Will Roll (Mojjo & Kuller RMX) – Yeah Yeah Yeahs
19.Came To Get Funky – Cazztek
20.DOWN LIKE THAT – Cazztek
21.Momentum (Original Mix) – Don Diablo
22.Get Down 2 Get Up (Zilverstep Bootleg RMX) – Mat Zo ft The Knocks
23.Bodak Yellow (Made Monster Remix) – Cardi B
24.A Milli Yellow (Danny Diggz Bodak Blend) – Lil Wayne vs. Cardi B
25.Commas Dum Dum (Flosstradamus Trap Bootleg) – Future x NGHTMRE
26.Humble (A4 Trap Remix) – Kendrick Lamar
27.Humble (Trap Remix) – Kendrick Lamar x Skrillex
28.Rake it Up (Diplo & Party Favor Trap RMX) – Yo Gotti & Mike Will Made it ft. Nicki Minaj
29.Rockstar (Trap Remix) – Post Malone ft 21 Savage
30.Basket Case (DJ Scene Trap Bootleg) – Green Day x Major Lazer x Grandtheft
31.Zebras in America – graves & FELMAX
Podcast: Play in new window | Download | Embed