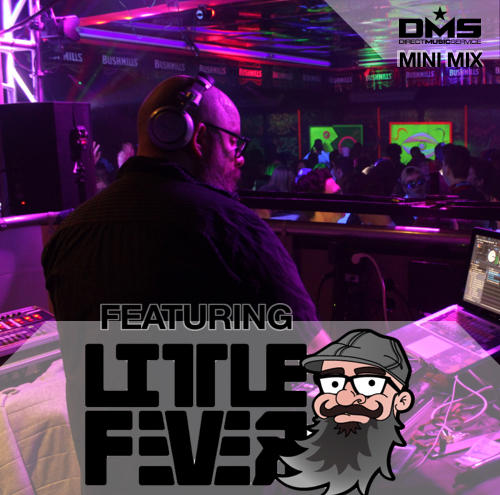 Mix #321 we bring you DJ LITTLE FEVER. Little Fever, a.k.a. Mr. iRock The Party, has a style like no other! Mixing an evolved fusion of today's chart toppers with classic throwbacks, Little Fever has been taking the crowds on a music journey since 1999.  
 
Inspired by artists ranging from Jay Z, Daft Punk, Kanye West, and Buck 65, this young pioneer has taken a handle on the scene and can be currently heard rocking the airwaves with The Friday Night Hit Mix & The Friday Mix Mornings on Kiss 102.7 Kingston  
 
Aggressive yet tenacious, it's the walloping hammer from Little Fever that has led him to compete at the 2012 Red Bull Thre3style Competition in Kingston, produce countless mixes for the California based fitness website Rock My Run, and pump out podcasts as part of DJ Little Fever's "The Hangover Mixshow" series.  
Always unique but as fresh as a cooling plate, Little Fever delivers music that slams sound systems across Canada.  
For more information about DJ LITTLE FEVER click the links below:
Check out the tracklist after the jump with links to download all of the edit's he used in this mix. Be sure to check back every Monday for a brand new mix.
Ric Flair Drip (Mister Gray Moombahton Remix) – 21 Savage, Offset & Metro Boomin
Wonderwall (pella) – Oasis
Plug Walk – Rich The Kid
Lemon (Drake RMX / Clean) – N.E.R.D. ft Rihanna & Drake
Lemon Drop (Danny Diggz Blend / Clean) – Pharrell & Snoop Dogg vs N.E.R.D.
Lemon (Danny Diggz Reggae Chop / OG to Chop) – N.E.R.D.
Yeah Yeah (Jed Harper Remix) – Aidonia
Ball For What (Mister Gray Remix / Blend) – Drake x T.I.
Nice For What (Danny Diggz Reggae Chop / Clean VIP) – Drake
Me So Bad (SPLYCE Bootleg) – Tinasha ft. Ty Dolla $ign & French Montana
Oops I Did It Again x 2 Reasons (Scooter Hype Blend) – Britney Spears vs Trey Songz
Bojangles x TTFU (Spryte Moombahton Bootleg) – Pitbull x Benedetto
TTFU – Benedetto & Leftside
X (J.Beren VIP Remix) – Nicky Jam & J Balvin
Merengue – Kent Jones
Suavemente (Onderkoffer Remix) – Elvis Crespo
Best Friend – Sofi Tukker Ft. NERVO, The Knocks & Alisa Ueno
Body Movin x Best Friend (RHarvz Bootleg / Clean) – Beastie Boys vs Sofi Tukker
Lift Yourself (Danny Diggz 102bpm Reggaeton Remix) – Kanye West
Scooby Doo Pa Pa (Deville Moombahton Remix / Spanish / Clean) – DJ Kass
Oochie Wally (MMK Mi Gente Mashup) – J Balvin vs Nas
Pray For Me – The Weeknd & Kendrick Lamar
Havana (DIY PELLA) – Camila Cabello & Young Thug
Mama Said Knock You Out (Mister Black Twerk Mix) – LL Cool J
Tipsy (Bootleg) – J-Kwon
Magenta Riddim – DJ Snake
Magenta Riddim (Dexterous MACARENA Edit) – DJ Snake x Los Del Rio
Podcast: Play in new window | Download | Embed