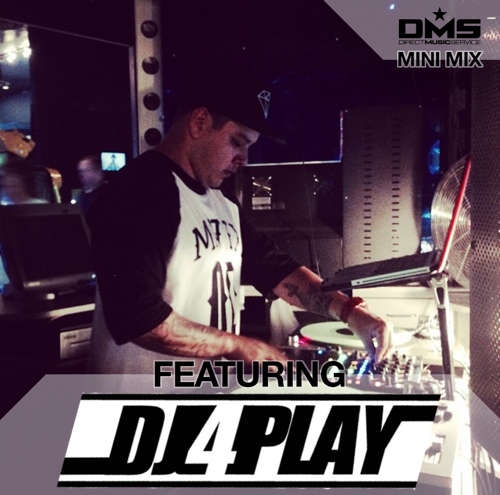 Mix #278 we bring you DJ 4PLAY from Long Beach, California.Born and raised in Los Angeles, Chris Saldivar, better known as DJ 4PLAY, has played for 12 years up and down the Southern California coast and beyond. Playing in one of the biggest nightlife scenes in the country, 4PLAY has been influenced by some of the best in the business. His ability to mix from one genre to the next while keeping the energy high, has made him a desirable act to some of the finest clubs and clients locally and across the country. With a passion for music and making people dance, 4PLAY is guaranteed to rock every gig he plays. Check out this exclusive mix that DJ 4PLAY did for us at DMS.
For more information about DJ 4PLAY click the links below:
Check out the tracklist after the jump with links to download all of the edit's they used in this mix. Be sure to check back every Monday for a brand new mix.
Audien x MAX – One More Weekend (Kue Remix)
Ed Sheehan – Castle On THe Hill (Country Club Martini Crew RMX / Cutdown)
Cheat Codes ft. Demi Lovatio – No Promises (Antony Miles & Ben Rainey Remix)
Dr. Dre ft. Snoop Dogg – The Next Episode (Myers & Alex Jet Remix / Clean)
Justin Timberberlake – Senorita (Roland Ua Remix)
Rita Ora – Your Song (Kay Stafford Mix)
Usher – U Got It Bad (Dazz 2016 Remix) Clean
Zedd ft Alessia Cara – Stay (ProjektX Remix – Clean)
Throttle – Hit The Road Jack (Cazztek Remix – Clean)
Beyonce – Naughty Girl (Nitrex Remix)
Charlie Puth – Attention (Country Club Martini Crew Club Remix – Clean)
Flume ft Kai – Never Be Like You (DIVIDE Remix – Clean)
Post Malone ft Quavo – Congratulations (DJ Dread Poolside Edit – Clean)
Bingo Players – Cry (A-Trak & DiscoTech Remix) Clean
Jazz – Feel The Volume (JOYRYDE 'Stick It In Reverse' Mix)
Party Favor vs Wiwek – WAWA (JD Live Transition 128-75) Clean
Bruno Mars – That's What I Like (Cabuizee Remix – Dirty)
Lil Jon x FlipN Gawd x Antiserum – Make Em Bounce (Dirty Surprise Edit)
Lil Uzi Vert – XO Tour Life (Cabuizee Remix) Dirty
Podcast: Play in new window | Download | Embed