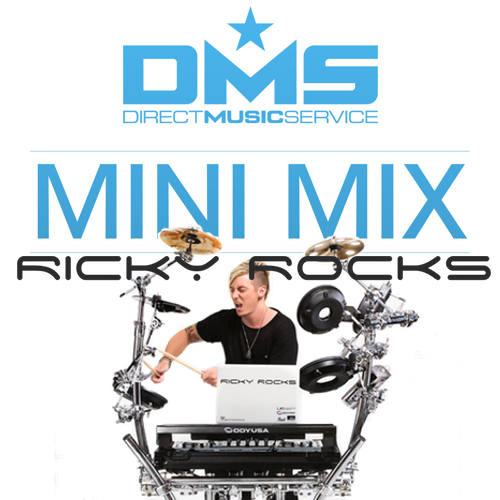 Mix #235 we have Ricky Rocks from Los Angeles, California. Renowned for his raw power, distinctive sound, and feel for the groove, he quickly made a name for himself in the music industry. Ricky is creating a new movement and bringing DJing to a whole new level in the high end special event / nightclub scene by seamlessly combining live drums/percussion with all styles of music (House/Electro/Hip-Hop/Rock).  
He creates a live drum remix on the spot with no rehearsal time.  Ricky's particular approach to the music and unique acoustic stand up drum kit sets him apart and makes him a true innovator and incomparable to the rest.
He has recently custom designed an all in one DJ & electronic drum pad rig that defines the future of DJing. His talents led him to perform at some of the most elite A List celebrity events around the world such as the Grammy's after parties, MTV VMAs, Superbowl XLII, many movie premiers & red carpet events. He has headlined major venues coast to coast from Hollywood, Las Vegas, Chicago, to Hawaii, Europe, & Asia. Ricky also has several residencies throughout the US including Fluxx Nightclub in San Diego, CA which was voted best new nightclub in the nation several years in a row.  He is also working with many artists both in the studio and live.  
Ricky started his own entertainment company, RCL Entertainment.  RCL is geared towards the high end cliental wanting top notch entertainment for their special events.  Ricky currently has ongoing featured shows at some of the world's largest theme parks including Universal Studios Hollywood and Six Flags Magic Mountain, which he is also the music director for.  Ricky's performances can be seen at some of the most talked about venues in the nation that want to keep their entertainment cutting edge and on the next level…
 Ricky is fully endorsed by Pearl Drums, Ultimate Ears, & Odyssey Cases.
Check out this exclusive mix he made for us at DMS where he incorporates DJ and live drumming.
For more information about RICKY ROCKS click the links below:
Check out the tracklist after the jump with links to download all of the edit's he used in this mix. Be sure to check back every Monday for a brand new mix.
1. Fat Joe Remy Ma ft French Montana – All The Way Up (Hype In) Clean
2. Spryte x Fatman Scoop x Lil Jon x Dozay x Young Ali – The Turnt Break (Clean / Hype Party Break)
3. Flo Rida – My House (Bonics x A-Rock) (Intro-Clean)
4. Sia ft Sean Paul – Cheap Thrills (Henry Fong x MEGAMAOR Moombahton Remix)
5. Red Hot Chili Peppers – Can't Stop – Jason Edward & Kid Cut Up Remix
6. The Chainsmokers ft Halsey – Closer (DJ Scooter Re-Drum / No Hype)
7. Party Favor ft Sean Kingston & Rich The Kid – Give It To Me Twice (Intro – Clean)
8. Sak Noel & Salvi ft Sean Paul – Trumpets (Moombahton / Intro Clean)
9. Tory Lanez – Luv (DJ Paimon RMX / Short Edit)
10.QB Finest x BrianDeaD – Oochie Wally x Spread Out (Dibs & MGM Bootleg / Clean)
11.Drake ft Too Short – Blow The Whistle x For Free w Hype
12.Rihanna vs. Mary J Blige – Work vs. Family Affair (DJs From Mars Bootleg / Super Short Edit)
13.Will Smith vs. Victor Niglio – Getting JIGGY With It (BASOMATIK Twerk Blend)
14.Party Favor ft Keno – Wiggle Wop (Twerk / Clean)
15.Drake ft Wizkid & Kyla – One Dance (Party Favor Ting Remix)
16.Major Lazer ft Justin Bieber & MO – Cold Water (Joe Maz RMX / Short Edit)
17.Major Lazer ft Nyla & Fuse ODG – Light It Up (Joe Maz RMX / Short Edit)
Podcast: Play in new window | Download | Embed