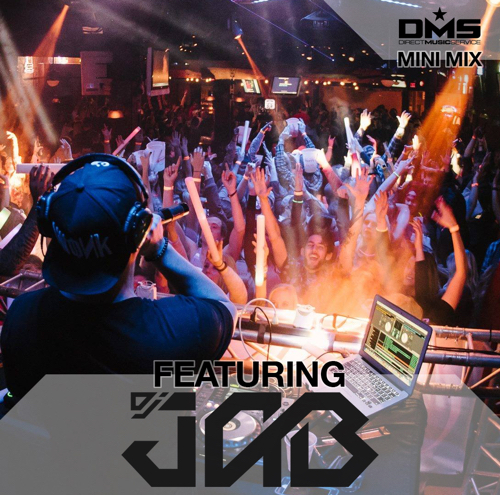 Mix #260 we bring you DJ JAB from Omaha, Nebraska. JAB's love for music and background as a drummer led him to his passion-Djing. JAB has joined the ranks of being one of the top open format DJ's haling from the Midwest and Omaha area. Not only does he rock surrounding night clubs, he is one of the most sought after wedding and corporate event DJs. JAB is known for his chameleon-like ability to rock crowds creatively blending genres with ease, always creating an electrifying atmosphere. Performing at over 200 events a year, JAB holds residences at all of Omaha's premier venues. No matter the venue or city, DJ JAB guarantees to deliver a high energy and memorable performance. Listen to his exclusive mix he made for us at DMS.
For more information about DJ JAB click the links below:
Check out the tracklist after the jump with links to download all of the edit's he used in this mix. Be sure to check back every Monday for a brand new mix.
1. DJ Snake ft Justin Bieber – Let Me Love You (Marshmello Trap Remix)
2. Travis Scott x Valentino Khan x Eptic – Goosebumps Deep Ends (DJ Import x Benzi Trap Bootleg / Super Short Edit)
3. A$AP Ferg x BassJackers x Dibs & MGM – Bring That New (Jimmy Dalton VIP Trap Bootleg)
4. Gucci Mane ft Drake – Both (FWB X Nate C. The Chief Remix / Dirty)
5. Amine x TML x Quintino & Cheat Codes – Caroline (Spryte Trap Bootleg / Dirty)
6. Chance The Rapper x Party Favor – No Problem (Made Monster Trap Bootleg / Dirty)
7. Flux Pavilion – I Can't Stop (Ekali Tribute)
8. Kungs x Ingwell x Fetty Wap – This Girl's Island (Hyphee Trap Bootleg)
9. A$AP Rocky Ft. Skrillex & Birdy Nam Nam – Wild For The Night (Dirty / Short Edit)
10.B.O.B. vs. Skrillex – We Still Goin In This Bitch (Dirty)
11.DJ Fresh – Gold Dust (Flux Pavilion Dubstep RMX) (Diggz Short Edit)
12.T.I. vs Ookay – What You Know About Thief (Spindiana Jones Bootleg / Dirty)
13.21 Savage & Metro Boomin ft Future – X (E-Rock x Clayton William Trap Remix / Dirty)
14.Rae Sremmurd x Skrillex x Rick Ross – Black Beatles On A Purple Lamborghini (Da Brozz Trap Bootleg / Dirty)
15.DVBBS ft Juicy J – Moonrock (Trap / Dirty / Super Short Edit) – 4A
16.Twenty One Pilots x Boombox Cartel x WeAreTreo – Ride (Spryte Trap Bootleg)
17.Flosstradamus x FKi1st x Graves ft Post Malone & Key! – Came Up (Trap / Dirty / Short Edit)
18.Drake vs.Trap Kings – Fake Love Trappin Out (Fuseamania Bootleg / Dirty)
19.Migos – T-Shirt (Styles&Complete Trap Remix / Dirty)
20.Black Eyed Peas x Slushii – Rock That Body x So Long (Dibs & MGM Trap Bootleg)
21.JOYRYDE ft Freddie Gibbs – Damn (Trap / Dirty / Super Short Edit)
22.Skrillex & MUST DIE! – VIPs (Gent & Jawns Trap Remix)
23.Migos – Bad And Boujee (Fuseamania Frankenstein Trap Mix / Dirty)
24.Future – Thought It Was A Drought (Party Favor Trap Remix / Dirty)
25.Trollphace – Make It Bounce (feat. Harvey J)
​
Podcast: Play in new window | Download | Embed