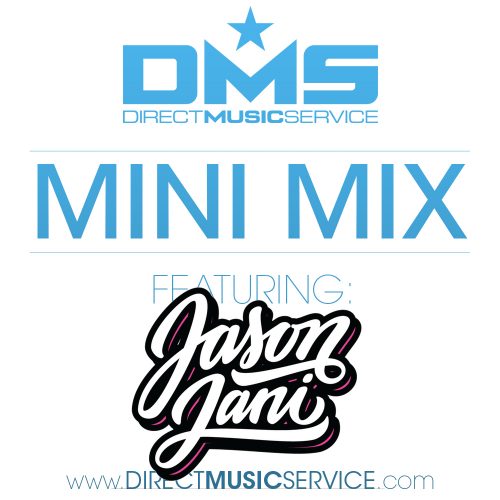 Mix #242 we bring you JASON JANI from New Jersey. As the founder of the SCE Event Group, Jason Jani has been setting the standard in private event entertainment since 2009. Trusted by the most discerning clients, Jason Jani adds a dynamic dimension to the marquee private event industry that is matched by very few.
Blurring the lines between nightlife and private event entertainment, Jason Jani is in a constant state of evolution. He continually looks to push the creative bar higher by utilizing a vast universe of experience unbound by the traditional limitations of genres, race, or normal. With world class production elements, inimitable style, seamless mixing abilities, and a polished microphone presence, Jason Jani has established a brand known for excellence, professionalism, and most of all- consistent results of awesome.
When companies like WeddingWire hire entertainment for their team or for VIP industry events at the hottest Las Vegas nightclub – Hakkasan, they call one person, Jason Jani. When industry icons like Jimmy Kimmel, a former DJ himself, is responsible for booking entertainment for his best friend, he calls one person, Jason Jani. When NBA legend Julius Erving's charity, the Erving Foundation, hosts a celebrity-filled gala and after party, they call Jason Jani. When Melissa Gorga launches her first Envy fashion show that will be featured on RHoNJ and Bravo TV, she calls Jason Jani. When Mobile Beat magazine, the largest resource and trade event in the mobile DJ world, hosts an international trade show for educating DJs worldwide, they call Jason Jani.
Described as the DJs DJ, Jason has been seen on television, heard on radio, featured at industry events, and profiled in several books, magazines, and online publications. He has worked with A-listers like Kanye West, Jay-Z, Ariana Grande, RedFoo from LMFAO, and DJ Jazzy Jeff as well as reality television stars Jacqueline Laurita and Dina Manzo. Jason has made cameo appearances on the PIX11 NYC Morning News and programs like Four Weddings and HGTV's Designer Affair. Jani has collaborated with celebrity event planner David Tutera, iconic groups like Guns 'n Roses, and high profile athletes like Seattle Mariners hall of fame pitcher, Jamie Moyer. Mainstream brands like Victoria's Secret, Salon Centric, Bloomingdales, VH1's Save the Music Foundation, and The Knot also keep Jason Jani on their go-to list of marquee talent. If your celebrity event or exclusive nightlife production requires a dropkick to the face of creativity and awesomeness, call Jason Jani.
Check out this exclusive mix by JASON JANI did for us at DMS.
Check out the tracklist after the jump with links to download all of the edit's they used in this mix. Be sure to check back every Monday for a brand new mix.
1. Trophies –
2. PSA – Jay Z – Dennis Blaze rework
3. Big Rings- Drake x Future
4. Panda – Desiigner
5. Broccoli – Nasa Redrum
6. No Problem – Chance the Rapper ft Lil Wayne and 2 Chainz
7. Bottoms Up- Trey Songs
8. Turn My Swag On – Soulja Boy
9. What you know about that – TI – DJ Scene x Holly Bootleg
10. Low Life Revolution – Future x Diplo – Fusemania & Simo Trap Bootleg
11. ooouuu – young ma
12. Walk it out x flex – UNK x rich homie quan – Donk Segway
13. All the way up – Jason Jani cutdown Redrum
14. Im up in the club – 50 Cent x Omarian – Diggz Blend
15. Famous like glue – Kanye x Swizz beats x Sean Paul – Scooter blend
16. Like Glue – Sean Paul- Jason Jani cutdown
17. Luv – Tory Lanez – Petedown reggae Remix
18. Everyone falls in love – Tanto Metro & Devonte
19. Your Number – Ayo Jay ft Chris Brown
20. Cold Water – Beiber x Major Lazer x Mo
21. Cold Water – Under the Bridge
22. Heathens – Twenty One Pilots – Joe Maz
23. The Greatest – Sia ft Kendrick Lamar – K. Twerk Blend
Podcast: Play in new window | Download | Embed