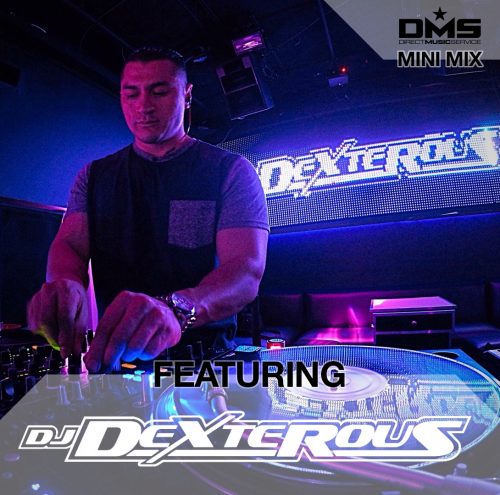 Mix #277 we bring you DJ DEXTEROUS from Orange County, California. Producer, Dj, Remixer and Music Enthusiast…DJ DEXTEROUS, a native from Southern California. He Began his journey in the music scene two decades ago doing backyard parties for friends and family. Soon after his love for the music became his passion which turned into his career today. Dj Dexterous continues to master his sound and take over the dance floors throughout the United States with his unique style of High energy mixing and scratching. When Dj DEXTEROUS is not spinning, you can find him in the studio producing remixes & editing his own tracks. Check out this exclusive mix that DJ DEXTEROUS did for us at DMS.
For more information about DJ DEXTEROUS click the links below:
Check out the tracklist after the jump with links to download all of the edit's they used in this mix. Be sure to check back every Monday for a brand new mix.
1. The way we do this – Ape Drums
2. Culo vs El Mashete (Dj Smerk Edit)
3. Sound of the police – Artistic Raw remix
4. Shaky Shaky – Vaizar Moombah Remix
5. Drop it low vs Antrox (Moombah Bootleg)
6. Drop – Big Syphe & Julian R Cumbia Break
7. Oye Mi Canto – Dj Sol Remix
8.Kanye West – Monster (Sahara Bootleg)
9. Calabria 2017 – (Dj Dexterous Transition)
10.Don't – Ed Sheeran (Sabr "Gang" Bootleg)
11. Move That Birthday Body – 2 chains vs Pegboard (Dj Dexterous Edit)
12. Venga – Kash Simic
13. Shake down – mash simic
14. The Boob (Marat leon remix)
15. Rumbia – Gregor Salto Remix
16. Magalenha – Noizekid bootleg
17. Mi Gente (Dj Dexterous Transition)
18. Ultimate Saltshaker – Ying Yang (Jason Dee Break)
19. Jumpin' – Destinys Child
20. Pass the courvoisier – Busta Rhymes
21. Humble – Kendrink Lamar
22. Savage – Swing Blood (Mak J REMIX)
23. Crank Dat (Kaos Bootleg)
24 Mask Offf – Future
25. Thats what i like – bruno Mars (Jones Trap Flip)
26. Invaders (Dj Dexterous Hype Intro)
27. All i do is win (Dj Dexterous Transition)
28. Despacito – Major Lazer Remix)
29. El taxi (Cosmo Moomba Remix)
30. Ganja – Henry Fong remix
31. Bad and Boujee – putdown tranisition
32. work – ASP FERG
33. Flicka Dat Wrist – Gorilla Bass remix
34.bang That – ( A-rock remix)
35. Drake – both (thugli remix)
36. Rolex – Ayo and Teo
Podcast: Play in new window | Download | Embed