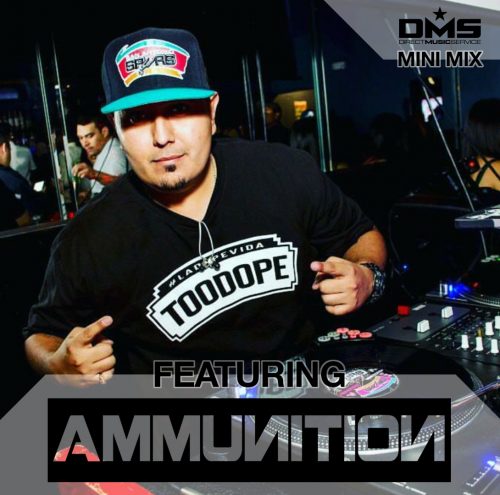 DJ Ammunition, an Open Format DJ, born and raised in Texas, discovered his passion and love for music at a young age. His father used to host local festivals and always brought his son along. His music knowledge and skill behind his "DJ weapons" of choice, Technics Turntables and Rane Mixer, have granted him the opportunity to travel, work with icons, and perform for hundreds to thousands of fans. Ammunition has worked for and along side the city of San Antonio's most popular radio stations such as, 98.5 The Beat, 95.1 YO, Energy 94.1, Hot 104.5, WILD 105.7, 99.5 Kiss, and Mix 96.1. His love for music and urge to change up the local nightlife scene, while paying homage to the culture of DJing, is a mission that he focuses on 1200%. Along with DJing for televised Boxing events by GoldenBoy Boxing, Top Rank, and Leija Battah Promotions, DJ Ammunition is currently a resident DJ to two of the hottest spots in San Antonio, 8811 and ICE Lounge.
Ammunition has opened and worked for Tory Lanez, Baby Soulja, Brodi Jenner, Jasmine V, DJ Laz, Carlton Zeus, Paula Deanda, AJ Hernz, Chingo Bling, Kyle Lee, Lil Troy, Fat Pimp, Dorrough Music, 69 Boys, GS Boyz, Tejano Grammy Winner Ricky Valenz, Universal Records iRome and Foreign, and Freestyle music Artists – Lil Suzy, Cynthia, Soave, The Cover Girls, and Aki Starr of Spanish Fly. The DJ name, was decided when local Texas Rapper and personal favorite, Chamillionare, released an EP titled Ammunition. Listen and download his mix he made for us exclusively at DMS.
For more information about DJ AMMUNITION click the links below:
Snapchat: Djammunition
Check out the tracklist after the jump to download all of the edit's he used in this mix. Be sure to check back every Monday for a brand new mix.
1. The Mack (OG to New / Hype Trans 98-106 / Clean / Short Edit) – Mark Morrision x Nevada & Fetty Wap
2. Fantastic Slide (Diggz Hype Acapella Wordplay Intro / Dirty) – Calvin Harris ft Frank Ocean & Migos x Coolio
3. Rump Shaker (Chan & Velar Twerk Flip) – Wreckz N Effectz
4. Bon Appetit – Katy Perry ft Migos
5. OMG – Sak Noel
6. Body – Sean Paul ft Migos
7. No Scrubs/Living High (Clap Intro/Segue/Dirty) – TLC x Marshmello
8. Beyonce Gets Humble (Dirty-Diggz Formation Blend) – Beyonce
9. Humble (Vtech Hype Intro/Dirty) – Kendrick Lamar x Ludacris
10. A Milli (Dirty-Danny Diggz Jump Blend) – Lil Wayne
11. Jump – Lupe Fiasco
12. Purple Lamborghini (Jay Velar Hype Trap Mix/Dirty) – Rick Ross
13. Goosebumps (Joe Maz Remix) – Travis Scott x Joe Maz
14. City on Lockdown (Trap/Dirty) – Yellow Claw ft Juicy J & Lil Debbie
15. XO Tour Life (Luca Lush Remix) – Li Uzi Vert x Luca Lush
16. Goosebumps (Joe Maz Remix) – Travis Scott x Joe Maz
17. I'm the One – DJ Khaled ft Justin Bieber, Quavo, Chance The Rapper & Lil Wayne
18. Mask Off (DJ Nasa Rework) – Future
19. Bounce Back (DJ Valid Remix) – Big Sean x DJ Valid
20. Bounce (Steve Dub Boyz in the Hood 82-88 Trans) – Big Sean x Eazy E
21. Boyz in the Drop (Vice Ultra Bootleg) – Eazy E x Vice
22. Bombjack (Deville Party Break 94-125 Trans) – Ummet Ozcan ft Ambush
23. I Love You (David Puentz Remix) – Axwell & Ingrosso
24. Heads Will Roll (PBH & Jack Shizzle Remix) – Yeah Yeah Yeahs x A-Trak
25. Congratulations (DLMT & Beave Mix) – Post Malone ft. Quavo
26. Chasing The Byte (Spryte Bootleg) – The Wanted x Martin Garrix & Brooks
Podcast: Play in new window | Download | Embed