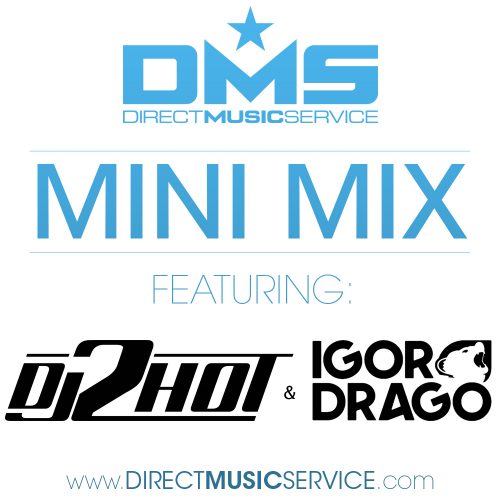 Mix #241 we bring you our very own from teamDMS DJ 2HOT and IGOR DRAGO from Vienna, Austria. Mario Solc, better known as DJ 2HOT, began his professional DJ career in 2003. He was active in the club scenes, however also well known to play at various athletic events such as at the sold out Lanxess arena in Cologne with 20.000 people attending. He entertains thousands of fans at selected festivals, street parades and club events with his unique music selection.
Earlier this year DJ 2HOT joined the "DMS – Direct Music Service" family where his edits are played by DJs all over the world now.
DJ 2HOT is also established on television as he is a VIVA Austria DJ. Until today he has been one of the most booked DJs in his hometown Vienna and an integral part of this business. Check out this exclusive mix by 2Hot & Igor did for us at DMS.
For more information about DJ 2H0T click the links below:
For more information about IGOR DRAGO click the links below:
Check out the tracklist after the jump with links to download all of the edit's they used in this mix. Be sure to check back every Monday for a brand new mix.
1. Halloween Intro
2. Bruno Mars vs. Ray Parker, Jr. – 24K Ghostbusters (2HOT & ID Halloween Edit)
3. Nevada ft Mark Morrison & Fetty Wap – The Mack (Fusemania Edit / Clean)
4. Patrick Clarke vs. Sia ft Sean Paul vs Henry Fong – Cheap Thrills (R-You Edit)
5. Chris Porter – Catwalk Killer
6. TWRK ft Migos, Sage the Gemini & Sayyi – Hands On It (Donk Edit / Dirty)
7. Robin Schulz ft Akon – Heatwave (DJ Katch Remix – Clean)
8. Jonn Hart & Clayton William ft Mr Vegas & Joelli – Beat Bust Down (2HOT Edit)
9. DJ Stoggi – Tutti Frutti (Twerk)
10. Party Favor ft Sean Kingston & Rich The Kid – Give It To Me Twice (Jason Bee Edit Clean)
11. Wale – My PYT (Mr. Collipark Moombahton RMX / Clean / Diggz Super Short Edit)
12. Ayo Jay ft Chris Brown & Kid Ink – Your Number (Remix / 2HOT Edit / Dirty)
13. The Weeknd – Starboy (Kue Remix) Dirty
14. Manufactured Superstars & Noodles – You Got The Love (Extended Mix)
15. Kungs ft Ephemerals – I Feel So Bad
Podcast: Play in new window | Download | Embed