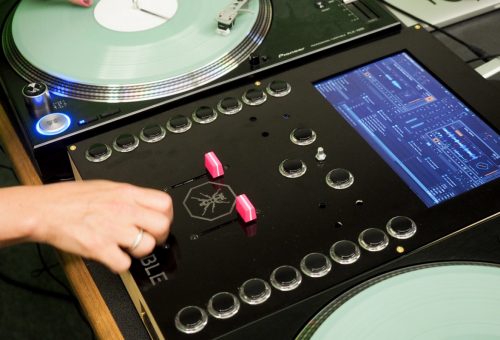 Roughly four years ago, Thud Rumble — a company that's the brainchild of legendary DJ QBert (Richard Quitevis) and Yogafrog (Ritche Desuasido) — was having an open house. Developer and DJ Rich Johnson (aka DJ Hard Rich) wandered in to talk to the co-founders. During a conversation with Quitevis, Johnson said, "I want to make a mixer for you guys." Quitevis had long wanted a mixer with an embedded computer so he wouldn't have to drag a laptop and mixer to gigs. "Can you make something like this?" he asked. Johnson said he could. Finally they're showing it off.
At today's Intel IDF keynote, DJs Qbert and Killa-Jewel (Julie Fainer) showed off prototype versions of that four-year-old promise. It's called "the Invader" and houses a touchscreen display running Windows 10. During today's presentation, both turntablers were spinning with the popular Traktor mixing software — but they could be using any DJ app that runs on Microsoft's operating system. It's an evolution both for mixers and for the company that built it.
Thud Rumble has been designing mixers and other DJ products for third parties like Vestax (which shuttered in 2014) and Sony as well as for itself since 1996. But the Invader will be different. Instead of just ordering a mixer in one of a few different variations, buyers will be able to customize their order with laser-etching options, various colors and a choice of rubber or old-school arcade buttons. Co-founder Desuasido told Engadget, "We're doing the Tesla business model."
Johnson is now the company's lead developer, and he's been working nonstop to get the two prototypes on stage ready for the Intel keynote. The week before the event, at the Thud Rumble offices in Millbrae, California, Johnson was showing QBert and Killa-Jewel some changes he'd made to the mixers they would be using. So eager to check them out, both DJs started scratching while he was still tweaking the devices.
The prototypes are taller than the final product. Johnson says they could be as thin as two centimeters (the plan is to get them thin enough to slip into a backpack), with articulated legs that extend during setup so they're the same height as the turntables. Along each side are eight buttons that correspond with cuts (a point in a song) set up by a DJ. As usual, the fader sits in the middle, with the volume controls for each deck above it. Additional buttons and topless knobs are scattered along the face of the Invader. Each corresponds with a feature. The knobs will also be buttons that can be depressed to access additional functions.
One of the biggest features is that the Invader negates the need to drag your personal data around with you. Fainer points out that you already have to carry a mixer around. "You don't want to be carrying your laptop around too. You have your whole life on that thing," he says.
Johnson says that he, Quitevis and Desuasido argued about what features to add to the mixer over the course of two days. "It was intense, but it was fun, and we were all really happy about what came out of it."
The company is hoping DJs will also be happy with what they built. The next step after IDF will be to finalize the printed circuit board (PCB) designs. Native Instruments, which makes Traktor devices, is working with Thud Rumble to create an audio interface. The final Invader mixer will have the usual audio ports, including the ability to switch to phono so DJs can scratch actual vinyl. It'll have USB 3 ports and an HDMI socket so DJs can use applications like Serato Video to output moving images. As you might expect, given that the device was shown off at Intel's developer conference, it runs on Intel i5 and i7 processors. It's competitively priced at $1,699 (the Pioneer DJ DJM-S9 mixer for Serato costs the same without a built-in computer) and will ship at the end of the year.
Quitevis' hope is that this setup will return DJs to a simpler time, like when he first started spinning. "I was used to just having my mixer and records and, boom, start scratching," he says. "Now I gotta set up this fricking laptop and wires and stuff." With the Invader, the all-in-one-mixer dream Quitevis and Johnson had all those years ago might finally bring some streamlining back to DJing.