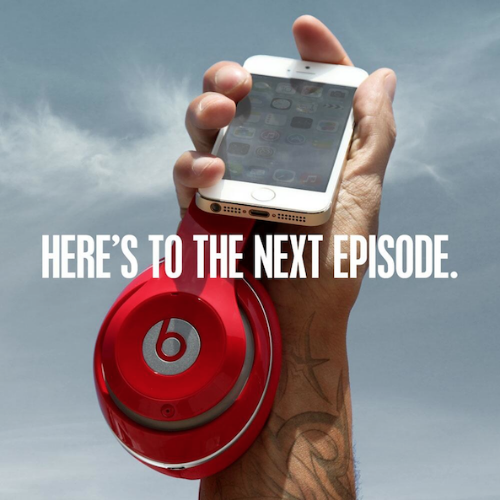 After nearly three weeks of waiting and speculation, Apple has officially announced the acquisition of Beats Electronics and Beats Music in a $3 billion deal. Beats founders — Interscope-Geffen-A&M chairman Jimmy Iovine and hip-hop producer Dr Dre — will be joining Apple in executive roles not specified in the announcement. Billboard previously reported the likelihood of Iovine and Dre being made part of the Apple executive team at next week's Worldwide Developers' Conference in San Francisco.
The deal is expected to close by Sept. 30, the end of Apple's fiscal fourth quarter.
Notably, the companies' press release leads with the purchase of the fledgling Beats Music streaming service — the much larger, more established Beats Electronics is listed second.
News first broke on May 8 that Apple was closing in on what was then thought to be a $3.2 billion deal to purchase the company, founded in 2006 by Iovine and Dr Dre. In addition to manufacturing headphones and mobile speakers, Beats launched its own music streaming company this past January.
Even though Beats Music has struggled since its Jan. 21 launch, retaining fewer than 200,000 subscribers as of last month, according to sources, it is believed it could play a potent role in Apple's gradual move away from downloads, which are on the decline, to on-demand streaming. With Apple's market power — more than 800 million credit cards on file and millions of devices around the world — it could use Beats Music to make finally make inroads into the growing streaming market.
The deal with Apple was expected to be confirmed within days of the first news reports but was pushed back several times from days to weeks. Sources have cited a number of reasons for the deal's hold-up, ranging from an overvaluation, the deal leaking too early, to Apple's embarrassment over Tyrese and Dr. Dre's celebratory video as well as the complexity of the acquisition.
Apple was able to negotiate the price down to $3 billion from the earlier $3.2 billion estimate after completing its due diligence, said a person familiar with the talks.
Iovine and Dr Dre, who hold majority stakes in their company, are set to make hundreds of millions from the deal. Other substantial investors in Beats have included Universal Music Group, the world's largest music company, which looks set to make over $500 million on its 14% stake in the company (worth $420 million plus dividends and other considerations).
"UMG's singular relationship with Jimmy permitted his innovation to flourish," said UMG CEO Lucian Grainge in a statement. "Together we created a once-in-a-generation opportunity that allowed Jimmy to maximize the use of his many talents."
The deal represents Apple's largest acquisition to date and CEO Tim Cook's first big deal.
In late 2009, Apple acquired Lala.com, a site that offered ownership of individual web streams of songs. It eventually added a scan-and-match service, known as iTunes Match, that allows users to stream music from multiple devices via the cloud once they've demonstrated ownership of them, but has thus far allowed other companies to develop the subscription music market without launching a service of its own.
Beats, meanwhile, acquired subscription service MOG in 2012, and brought in former Topspin Media CEO Ian Rogers as its chief executive the following year to launch and lead the subscription service. Beats also acquired the associated company Topspin, a direct-to-fan marketing platform developer, earlier this year.
In its last earnings report, Apple reported $10.2 billion in profit on $45.6 billion in revenue for the quarter ending March 29, driven primarily by strong iPhone sales. Apple also sells Beats hardware in its Apple stores.