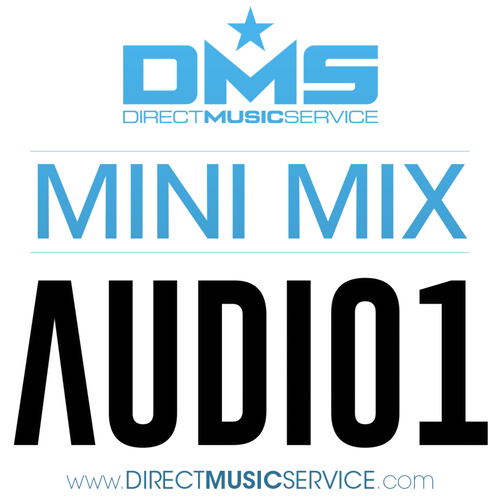 Mix #233 we have AUDIO 1 from San Francisco, California. AUDIO1 is ​established DJ and producer from the San Francisco Bay Area. Whether its sets on Ghetto House Radio, club and festival DJ appearances, This man is everywhere, constantly traveling across multiple US markets with his wild open-format club sets and hard hitting EDM, trap & bass mixes. This has earned him opening for acts such as Iggy Azalea & Rudimental, plus his sought-after DJ edits & remixes have been supported by thousands of DJs including Diplo and VICE. ​AUDIO1 digs deep with an eclectic mix of classics, new music, original remixes and exclusive edits while showcasing his stellar programming, fast paced mixing and turntable skills. A genuine lover of all music, AUDIO1 always brings his A+ game to the club!
This is an exclusive DMS MINI MIX featuring AUDIO1's favorite hip-hop, dancehall, twerk and 100bpm bass cuts, including unreleased and forthcoming material from his INTL PARTY project with BENOFFICIAL, plus exclusive tracks & remixes from Clayton William, E-Rock, Mastamonk, DIBS & MGM, and many more. Listen to this exclusive mix AUDIO1 made that takes you to the club as he wraps up SUMMER SIXTEEN with his favorite party bangers, mixing up high energy hip-hop, rap, R&B with twerk, moombahton, dance hall and bashment vibes. Lots of exclusives on this mix including some sneak previews of forthcoming INTLparty and SpydaT.E.K releases."
For more information about AUDIO1 click the links below:
Check out the tracklist after the jump with links to download all of the edit's he used in this mix. Be sure to check back every Monday for a brand new mix.
1. Yellow Claw Intro
2. Yellow Claw ft Yade Lauren – Invitation (BIZZARRI Remix)
3. Dirtcaps & Mightyfools – Wasted
4. Los XL & Snappy Jit – Big Phat
5. 50 Cent vs Dillon Francis – Candy 2X (Danny Diggz Moombahton Bootleg)
6. Lil Jon ft Yandel & Becky G – Take It Off
7. Major Lazer ft Justin Bieber & MO – Cold Water (Dibs & MGM Remix)
8. Nicky Jam – With You Tonight (INTLparty Remix)
9. Vino & 408 – ID
10. Jidenna – Little Bit More (INTLparty & Dab Punks Remix)
11. Ying Yang Twins x Mike Jones x Mr. Collipark – Badd (INTLparty Remix)
12. Drake ft Wizkid & Kyla – One Dance (INTLparty Remix)
13. Eric Bellinger – Valet (Ben Official x MytyMyke x INTLparty Remix)
14. INTLparty x SpydaT.E.K – ID
15. SpydaT.E.K & White Gangster ft Ma-Less & DJ Blass – Duro Bass
16. Fat Joe – All The Way Up (SpydaT.E.K & Quality vs Glowinthedark) (Audio1 Bootleg)
17. Hella Louud (Clayton William x Jonn Hart) ft Nick V & Mo Shakray – LDL
18. Clayton William x INTLparty ft Yak Boy Fresh – How Rat Chet Tho
19. Hella Louud (Clayton William x Jonn Hart) ft Mr. Vegas & Joelli – Beat Bust Down
20. Afrojack & Martin Garrix – Turn Up The Speakers (SpydaT.E.K VIP)
21. Baauer ft M.I.A & G-Dragon – Temple (SpydaT.E.K Twerk'd Out Bootleg)
22. Era Istrefi – Bon Bon (Jerry Wallis & Greg Lassierra Twerk Remix)
23. Kungs & Cookin' On 3 Burners – This Girl (INTLparty Remix)
24. Major Lazer & MOTi ft Wizkid & Kranium – Boom (CMC$ Remix)
25. SpydaT.E.K. – ID
26. Audio1 x INTLparty – ID
27. Major Lazer x DJ Snake x Skrillex – Light Up The Sahara (Diggz & Donk Bootleg)
28. Diplo Outro
Podcast: Play in new window | Download | Embed