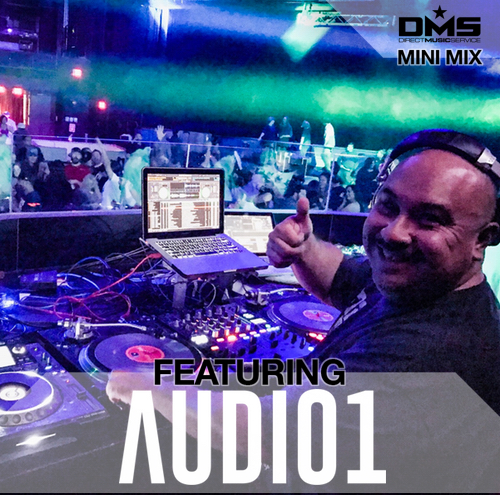 Mix #279 we have AUDIO 1 from San Francisco, California. Ever the shape shifter the veteran DJ moves deftly between styles with the experience and knowledge to understand what moves the wide variety of dance floors he commands. Whether he's displaying his diversity with an open format set or shaking the floor with a heavy dose of bass music, His skills as a selecta are always on display. Diplo & DJ Vice have championed his bootlegs and edits, and in 2015 he caught the ears of Direct Music Service giving his hotly anticipated edit packages a home for DJ's far and wide. He has also joined forces with fellow DJ/Producer Ben Official to create "INTLparty", A growing collective spearheaded by two dynamic emerging producers aims to bring big bass and funky vibes to the masses one tune at a time.
This is an exclusive DMS MINI MIX featuring some of AUDIO1's favorite open-format, hip-hop and indie dance jams/remixes.
For more information about AUDIO1 click the links below:
Check out the tracklist after the jump with links to download all of the edit's he used in this mix. Be sure to check back every Monday for a brand new mix.
1. Notorious BIG vs Grandmaster Flash – The Juicy Message (Casual Connection Blend)
2. Childish Gambino – Redbone (Danny Diggz RMX)
3. Groove Theory – Tell Me (Mayeda RMX)
4. Mark Morrison – Return Of The Mack (AKOF RMX)
5. Ed Sheeran vs Ace of Base – All That She Wants / Shape of You (Scooter Mix)
6. Gloria Estefan – La Isla Bonita
7. The Gap Band – Outstanding
8. George Michael – Father Figure
9. Janet Jackson – Nasty
10.Timex Social Club – Rumours
11.INXS – Need You Tonight
12.The Virgins – Rich Girls
13.Shwayze – Rich Girls
14.Chromeo – You're So Gangsta
15.Kygo – ID
16.Freak Island ft Devon Terrell – Lifestyle (Rich Gang Cover)
17.D.R.A.M. ft Lil Yachty – Broccoli (Party Pupils Remix)
18.Dillon Francis ft Will Heard – Anywhere
19.The Bird and The Bee – I Cant Go For That (Hall & Oates Cover)
20.Tove Lo – Habits (Stay High) (Oliver Nelson Remix)
21.Usher – Good Kisser (Disclosure Remix)
22.Jidenna – Classic Man (Crafty Daggers Remix)
23.DNCE – Cake By The Ocean
24.Pitbull feat. LunchMoney Lewis – Greenlight (Audio1 Mix)
25.Tuxedo – Do It
26.Freischwimmer – California Dreaming (Mamas & Papas Cover)
27.Clean Bandit feat. Jess Glynne – Rather Be (The Magician Remix)
28.Janet Jackson – Go Deep (Tchami RMX)
29.Janet Jackson – Go Deep (Shoe Scene RMX)
Podcast: Play in new window | Download | Embed