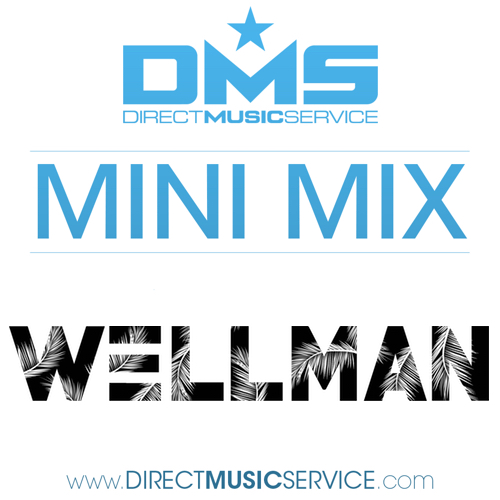 Mix #208 we have WELLMAN from Las Vegas, Nevada. Born and raised in Las Vegas, NV, DJ Wellman has quickly became a familiar face and name in the nightlife scene.
After graduating high school six months early to attend music school, Wellman enrolled at Musicians Institute in Hollywood, CA where he would graduate with a certification in record engineering/music production. Wellman spent several months after graduating, interning at a major recording studio in the Hollywood area and networking within the music industry.
Once the internship was complete Wellman returned back to his hometown of Las Vegas to pursue his career in the DJ world. It was in 2006 when Wellman was hired by the Hard Rock Hotel and casino at the young age 19 to run audio and production for the world famous REHAB Pool Party. Shortly into Wellman's first season on property he was added to their roster of DJs which would turn into a 9 year residency of being the main resident DJ and a headliner for REHAB, Vanity Nightclub and Body English. Wellman's vast music knowledge and ability to program also landed him the role of music coordinator for the entire property. During his time with the Hard Rock Hotel Wellman has played support for a countless number of A list DJs from Tiesto on down as well as support for A list acts from Drake on down.
Although most of Wellman's DJ career has been spent with the Hard Rock Hotel, he has also held weekly residencies with several other major nightclubs in Las Vegas, travels all across the U.S. playing at the top venues in those cities as well as produced many remixes you can find on the biggest record pools and hear some of the most popular names in DJ'n play. Listen to this exclusive hip hop, trap, & twerk mix he made for us at DMS.
For more information about WELLMAN click the links below:
Check out the tracklist after the jump with links to download all of the edit's he used in this mix. Be sure to check back every Monday for a brand new mix.
TRACKLIST
1. Kanye West ft. The Weeknd – FML (Wellman Bootleg)
2. DJ Mustard ft. Travis Scott – Whole Lotta Lovin' ( Wellman Remix)
3. Drake – Hotline Bling (Ookay Remix)
4. Bone Thugs N Harmony – thuggish Ruggish Bone (Candyland & Chips & Ahoy OG Remix)
5. Ty Dolla $ign – Blase – (Damien Anothony Trap Bootleg)
6. 4B & AAZAR – Pop Dat
7. Brewski – Niykee Heaton (Borgore Remix)
8. Tony Arzadon & Jerzy – Pump It
9. Yo Gotti – Down In The DM (Wellman Bootleg)
10.ChildsPlay & Onderkoffer – Bad Bae
11.Party Favor & Nymz – Baddest Things
12.Tha Trickerz & Creaky Jackais – OG Purp
13.Flosstradamus – Lighters Up
14.DJ Snake – Propaganda (Avila & LVO Remix)
15.Migos – Look At My Dab (Diplo & Bad Royale Remix)
16.Jack U – Take U There? ( Noizekid Reggaeton Bootleg)
17.Cesqeaux & D'Maduro – Suerte
18.Major Lazer & MOTI – Boom (Wellman Bootleg)
19.Ricky Remedy – Racks (Wellman Transition Edit)
20.Fetty Wap – Jimmy Choo (Adam Bomb Trap Remix)
21.Travis Scott – A-Team
22.Skeme ft. Chris Brown – 36Oz
23.Young Juve – Do Yo Thang
Podcast: Play in new window | Download | Embed