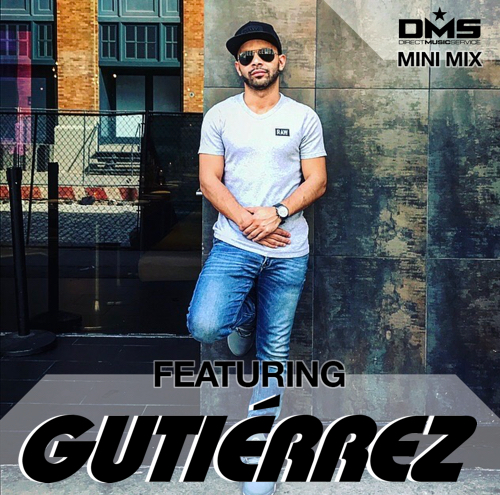 Mix #287 we bring you DJ GUTIERREZ from New York. Gutierrez,​ ​a​ ​name​ ​that​ ​is​ ​rapidly​ ​emerging​ ​on​ ​the​ ​NYC​ ​nightlife​ ​scene​ ​&​ ​beyond.​ ​By encompassing​ ​seamless​ ​blends,​ ​drops,​ ​&​ ​other​ ​turntablist​ ​techniques,​ ​this​ ​DJ's​ ​open-​format approach​ ​elevates​ ​energetic​ ​party​ ​levels​ ​to​ ​extremes,​ ​allowing​ attendees​ ​to​ ​experience​ ​the passion​ ​of​ ​his​ ​craft.
Taking​ ​his​ ​talents​ ​to​ ​the​ ​heart​ ​of​ ​New​ ​York​ ​City​ ​nightlife,​ ​whether​ ​big​ ​room​ ​or​ ​intimate settings,​ ​Gutierrez​ ​has​ ​rocked​ ​some​ ​of​ ​NYC's​ ​finest​ ​nightclub​ ​offerings,​ ​including,​ ​but​ ​not limited​ ​to:​ ​Avenue,​ ​Finale,​ ​Gansevoort​ ​Park,​ ​Lavo,​ ​Plunge​ ​Rooftop,​ ​Samsung​ ​837,​ ​&​ ​Tenjune. As​ ​his​ ​brand​ ​continues​ ​to​ ​expand,​ ​Gutierrez​ ​can​ ​be​ ​seen​ ​from​ ​NYC​ ​to​ ​South​ ​Florida,​ ​having showcased​ ​his​ ​in​-demand​ ​skill​-set​ ​at​ ​Fort​ ​Lauderdale​ ​hotspot,​ Himmarshee​ ​Public​ ​House, the​ ​trendy,​ ​celebrity​-studded​ ​STK​ ​Miami​ ​Beach,​ ​and​ ​POV​ ​Nightclub,​ ​atop​ ​of​ ​the​ ​W​ ​Hotel​ ​in heart​ ​of​ ​Washington​ ​DC.
In​ ​addition​ ​to​ ​party-​rocking​ ​elite​ ​nightlife​ ​crowds,​ ​Gutierrez​ ​has​ ​rendered​ ​his​ ​services​ ​to​ ​an array​ ​of​ ​A​-List,​ ​corporate​ ​clients,​ ​including​ ​but​ ​not​ ​limited​ ​to:​ ​Bonobos,​ ​Coors​ ​Light,​ ​Guess Jeans,​ ​&​ ​Lord​ ​&​ ​Taylor​ ​5th​ ​Avenue​ ​.​ ​Twice,​ ​he​ ​provided​ ​the​ ​soundtrack​ ​to​ ​the​ ​unveiling​ ​of Jaguar​ ​North​ ​America's​ ​2014​ ​F​-Type,​ ​hosted​ ​by​ ​"Gossip​ ​Girl"​ ​actress,​ ​Kelly​ ​Rutherford,​ ​&
their​ ​2015​ ​F-​Type​ ​Coupe,​ ​hosted​ ​by​ ​Dylan​ ​Lauren,​ ​owner​ ​of​ ​the​ ​famed,​ ​"Dylan's​ ​Candy​ ​Bar," &​ ​Luis​ ​D.​ ​Ortiz​ ​of,​ ​"Million​ ​Dollar​ ​Listing​ ​New​ ​York."
When​ ​not​ ​immersed​ ​in​ ​the​ ​hustle​ ​of​ ​the​ ​nightlife​ ​industry,​ ​Gutierrez​ ​is​ ​feverishly​ ​at​ ​work​ ​to deliver​ ​new​ ​episodes​ ​to​ ​his​ ​popular​ ​iTunes​ ​podcast​ ​series,​ ​"Here​ ​I​ ​A.M."​ ​His​ ​open-format mixes​ ​continue​ ​to​ ​grace​ ​the​ ​ears​ ​of​ ​an​ ​international​ ​audience,​ ​spanning​ ​from​ ​the​ ​USA​ ​to Asia,​ ​Europe,​ ​South​ ​America​ ​&​ ​more. Signing​ ​with​ ​NYC​ ​based​ ​agency,​ ​SET​ ​Artist​ ​Management,​ ​in​ ​early​ ​2016,​ ​Gutierrez​ ​is​ ​a​ ​force destined​ ​to​ ​conquer​ ​sound​ ​systems​ ​both​ ​foreign​ ​and​ ​domestic. Listen to this exclusive mix that he made for us at DMS.
For more information about DJ GUTIERREZ click the links below:
Check out the tracklist after the jump with links to download all of the edit's he used in this mix. Be sure to check back every Monday for a brand new mix.
1. Ayo Jay ft Fetty Wap – Your Number
2. Chris Brown – Questions
3. Vybz Kartel – Fever (Diplo Remix)
4. French Montana ft Swae Lee – Unforgettable
5. Hardwell & Henry Fong ft Mr. Vegas – Badam
6. Henry Fong & Bad Royale ft Keno & IamStylez
7. Rock Ya Hips (Deville Moombah Flip)
8. Lil Jon ft Yandel & Becky G – Take It Off
9. Major Lazer – Front of The Line
10.Axwell & Ingrosso – How Do You Feel Right Now
11.J Balvin & WIlly William – Mi Gente (Digital Junkiez Remix)
12.Mr. Black & Ale Mora – Party People
13.Jamis & MAD M.A.C. – Renegade Master (Dimitri Vegas & Like Mike Edit)
14.Fedde Le Grand, CoCo Star & Dannic – Coco's Miracle
15.Fedde Le Grand & D.O.D – Love's Gonna Get You
16.Ayo & Teo – Rolex
17.Kyle – iSpy (DJ Scooter Remix)
18.Future – Mask Off (MAKJ Remix)
19.Travis Scott – Goosebumps (Joe Maz Remix)
20.Rick Ross – Trap Trap Trap (ID Remix)
21.Kendrick Lamar – Humble
22.Cardi B – Bodak Yellow
23.YFN Lucci – Everyday We Lit (Kameo Remix)
24.Lil Uzi Vert – XO Tour Life (Cabuizee Remix)
Podcast: Play in new window | Download | Embed