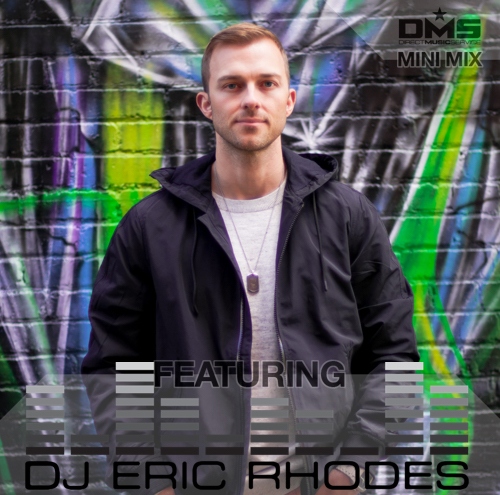 Mix #290 we bring you DJ Eric Rhodes from Boise, Idaho. DJ Eric Rhodes is a professional DJ/MC and one of the most versatile and sought-after talents in his area. He started in 1999 on a couple of Technics turntables and hasn't looked back. Performing for clubs, colleges, weddings and more, DJ Eric Rhodes knows how to keep a dance floor packed with his smooth and high-energy mixes. Eric is an open-format DJ who can blend almost any style of music. In 2014, he won the BAM Converge DJ Competition where he had the challenge of mixing classic Brazilian music with modern hip-hop, Top 40 and EDM tracks. Not an easy feat. In this week's mix, DJ Eric Rhodes brings us his unique and high-energy set full of Hip-Hop, Twerk, EDM, Trap and more.
For more information about DJ ERIC RHODES click the links below:
Check out the tracklist after the jump with links to download all of the edit's he used in this mix. Be sure to check back every Monday for a brand new mix.
TRACKLIST:
1. The PartiKingZ (DJ Kool & Mr. Collipark) "Up All Night (Twerk/Clean)"
2. Usher ft. Ludacris & Lil' Jon "Yeah (AV8 Hype / DJ Kontrol Twerk Remix / Short Edit)"
3. Red Hot Chili Peppers "Can't Stop (RIOT Twerkout / Short Edit)"
4. DJ Snake & Lil' Jon "Turn Down For What / Short Edit)"
5. Jason Derulo / DJ Kool "Talk Dirty / Clear My Throat (Segway / Clean / Short Edit)"
6. The Chainsmokers ft. Daya x Jackal "Don't Let Me Down (Jpan Bootleg Trap Remix)"
7. Run DMC "It's Tricky (Transition 100-128)"
8. Deorro & Uberjakd ft. Far East Movement "When The Funk Drops (Clean)"
9. Flo Rida "Right Round (Jpan Bootleg Remix)"
10. MC Hammer "U Can't Touch This (DJ SHTOPOR Remix)"
11. LMFAO ft. Lauren Bennett & Goon Rock "Party Rock Anthem"
12. Adele "Hello (Nexboy & Trillogee Bootleg Remix)"
13. Calvin Harris & Rihanna "This Is What You Came For (Donk Frankestein Edit / Trap Transition 124-70)
14. Da Shop Boyz "Party Like A Rockstar (Choppa Dunks Trap RMX / Clean / Short Edit / Ends Cold)"
15. DJ Khaled x T-Pain x Ludacris x Drake "All I Do Is Hotline Bling (Scooter Blend RMX / Clean)"
16. Flo Rida ft. Sage The Gemini "GDFR (Hype Edit / Clean)"
17. D.R.A.M. ft Lil Yachty "Broccoli (Joe Maz Trap Remix / Clean)"
18. Soulja Boy "Crank That (DJ Kontrol & Shan Tha Don Trap Remix / Clean)"
19. Meghan Trainor "All About That Bass (Ice -Creamz Trap Remix / Dirty)"
Podcast: Play in new window | Download | Embed