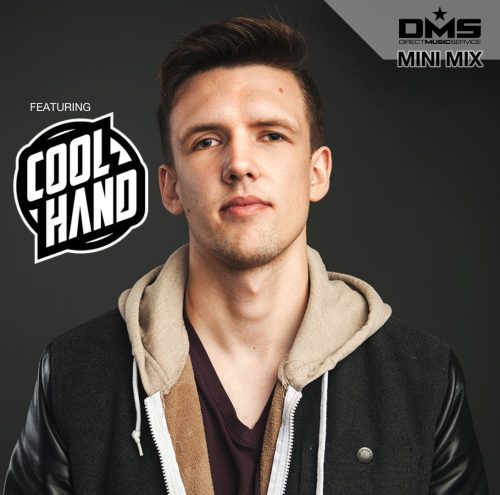 Mix #272 we bring you DJ COOLHAND from the New York. DJ CoolHand is a New York City DJ and producer. Born and raised in Oakland, California, the home of diverse sets, smooth fades, and crisp cuts. He started by lugging turntables, digging for vinyl and collecting old crates of music at local radio stations. By his senior year of high school, he was performing regularly at nightclubs throughout the San Francisco Bay Area. CoolHand moved to New Orleans in 2009. From there, his career took off as he spun at venues like The Boot, House of Blues and Cajundome. He has opened for artists including G-Eazy, Young Money, Wu-Tang, and Miguel. He has also had the opportunity to tour the United States, playing at festivals like SXSW and A3C. His client list includes Sony, Miller-Coors, and Red Bull. Today, CoolHand continues his 10-year career in New York City. Listen to the mix he made exclusively for us at DMS.
For more information about DJ COOLHAND click the links below:
Check out the tracklist after the jump to download all of the edit's he used in this mix. Be sure to check back every Monday for a brand new mix.
1. Rock-It! Scientists – Young California Break Oakland (Party Break/Dirty)
2. TWRK – NOLIA
3. Juvenile – Back that Azz Up (DJ Scooter Twerk Remix)(Dirty)
4. Bubba Sparxx – Ms. New Booty (Basomatik Retwerk)(Dirty)
5. Ying Yang Twins – Badd (Basomatik Retwerk)(Dirty)
6. Khia – My Neck My Back (Miles Medina Twerk Remix)(Dirty)
7. Blackstreet – No Diggity (Mayeda Twerk Remix)
8. Too Short – Shake That Monkey (J Espinosa x Clayton William Remix)
9. Black Machine – How Gee (Mister DJs & Stalif Twerk Remix)
10.DJ Sliink – Higher (Feat. Fatman Scoop)
11.Dr. Fresch x Bijou – Hello
12.E-40 – Tell Me When To Go (Comic Book Villain Remix)
13.Drake – Controlla (DJ Taj Jersey Remix)
14.Rihanna – Sex With Me (DJ Taj Jersey Remix)
15.Sigala – Easy Love
16.SNBRN Feat. Nate Dogg – Gangster Walk
17.E-40 – Choices (Yup) (AC Slater & Siden Remix Dirty)
Podcast: Play in new window | Download | Embed