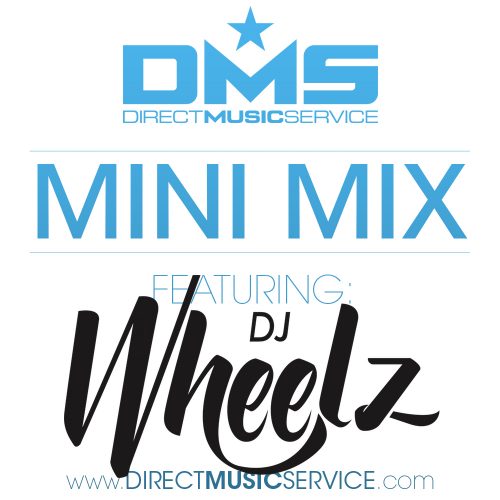 Mix #252 we bring you DJ WHEELZ from Sioux Falls, South Dakota.​ ​DJ Wheelz is a veteran when it comes to mixing genres and songs of all types, racking up over 22 years of experience in venues across the Midwest in cities such as Omaha (Nebraska) Fargo (North Dakota) Minneapolis (Minnesota) Rapid City & Sioux Falls (South Dakota). As a resident at two of the top clubs in Sioux Falls for the last 15+ years Wheelz hasn't ever fallen into a comfort zone and has continually pushed his mixes with the ever evolving music over the last two decades. Blending everything from classic hip-hop & rock to today's electronic influenced club hits, Wheelz has created a signature style that keeps his crowds constantly moving and switching up the energy. Outside of the venues Wheelz is an Events & Production Manager for a production company out of Sioux Falls. Some of Wheelz most recent highlights include opening for Vanilla Ice, Manic Focus, NYE 2016 @ The District (Sioux Falls, SD) & being a resident at Sioux Falls Largest Monthly Party "First Friday" @ Wiley's. Download & Listen to his exclusive mix he made for us at DMS.
For more information about DJ WHEELZ click the links below:
Check out the tracklist after the jump with links to download all of the edit's he used in this mix. Be sure to check back every Monday for a brand new mix.
1. You Can Do It (Moombahton Bootleg) Ice Cube
2. Fuck Tha Police (Dirty / Super Short Edit) N.W.A.
3. Hip Hop Junkies Change Da Game (Blend / Clean) Nice & Smooth Vs Jay-Z
4. Iko (Tropkillaz Remix / Clean) N.A.S.A. ft Lizzo
5. Party Up (DJ Scooter Twerk Remix / Wack Twisted Edit / Dirty) DMX ft Swizz Beatz
6. Good Times Roll (Cutdown) GRiZ & Big Gigantic
7. Drama (Party Favor Remix) (Extended) Bro Safari & UFO!
8. Light Your Ass on Fire (reedStreets Twerk RMX / Super Short Edit) Busta Rhymes
9. Bust (Dirty) (Extended) Waka Flaka & Mr Collipark & Mayhem
10.Smoke Bomb (Dirty) Datsik feat Snoop Dogg
11.Cannon (Trap / Twerk) DJ Scene & Mastamonk
12.Trini Dem Girls (Knock2 Twerk Bootleg) (Clean) Nicki Minaj feat LunchMoney Lewis
13.Where The Party At (Fraze & Tailz Trap/Twerk Remix / Clean) Jagged Edge ft. Nelly
14.$ave Dat Breakdance Lesson (Simo Bootleg / Dirty) Lil Dicky ft Fetty Wap & Rich Homie Quan vs Kaytranada
15.What's Golden (Casual Connection Boogie Funk Remix) Jurassic 5
16.No Diggity (Bondax RMX) (Simo Short Edit) Blackstreet
17.Bubblegum (Tropkillaz Remix) (Extended) Jackal & CRNKN
18.Outta Your Mind White Bitch (Made Monster Twerk Blend / Dirty) Lil Jon vs Made Monster
19.Turn Down For Sahara (Donk Bootleg / Super Short Edit) DJ Snake x Skrillex x Lil Jon
20.PS GFY (Dirty) GRiZ Ft. Cherub
21.Tear it Up (Twerk / Dirty) Appeal & Euthinme ft. DMX
22.Party Favor (Twerk Edit) (Dirty) (Extended) Carnage ft Katie Got Bandz
23.Hey Mama (Bass Kidz Remix) (Dirty) (Extended) David Guetta ft Nicki Minaj
24.679 (K Theory Remix) (Dirty) (Extended) Fetty Wap
25.The Yoga Pose (Doc Roc Twerk Funkymix with Hype / Clean)
Podcast: Play in new window | Download | Embed