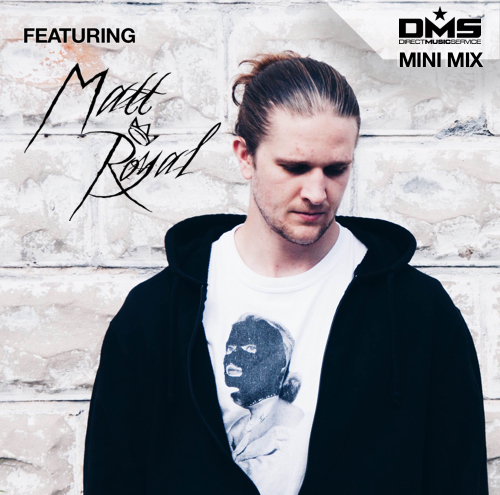 Mix #309 we bring you DJ MATT ROYAL from London, Ontario Canada.​ Born in Ajax, Ontario, Matt Royal garnered his passion for music throughout his younger years, listening to mixes created by artists such as DJ AM and Jazzy Jeff. Once in high school, he focused on being the life of the party, and put his musical knowledge towards becoming a DJ. After peaking in his hometown, he picked up his life and moved to London, Ontario to further his career. Shortly after arriving in London he began working with PremierLife and has held some of the most renowned residencies in London to date. While maintaining weekly residencies, Matt has opened for artists such as Marshmello, MAKJ, Tory Lanez, Roy Woods, P Reign and Tay James; along with playing at a few major festivals in Ontario. Matt brings a high energy, nostalgic driven set at each of his club nights, seeking to provide guests with an emotional rollercoaster through all genres of music. His dynamic sets focus on popular songs while also aiming to highlight many of the older and often forgotten about hits, as you will see in his Mini Mix this week.
After attending the Redbulll Thre3Style World Finals in Krakow, Poland, Matt has gathered inspiration and knowledge that he looks to implement in his weekly residencies and upcoming DJ competitions.
For more information about DJ MATT ROYAL click the links below:
Check out the tracklist after the jump with links to download all of the edit's he used in this mix. Be sure to check back every Monday for a brand new mix.
1. Jay-z x AC/DC – Back In Public Service
2. Guns N Roses – Paradise City
3. Dr. Dre feat Snoop Dogg x Guns N Roses – Snoops Roses (Mashup)
4. Twenty One Pilots x Lynyrd Skynyrd – Stressed Out (Danny Diggz "Good ol Days" Mix/ RIP DJ AM!)
5. Lynyrd Skynyrd – Sweet Home Alabama
6. Sum 41- Fat Lip (Milk N Cooks Lake House Remix)
7. Franz Ferdinand – Take Me Out
8. System of A Down – BYOB (Chorus Only)
9. Dr Dre & Roger Troutman vs. DJ Snake & Major Lazer – Lean On California Love (Danny Diggz '1-5 Blend)
10.Phantom Planet x Notorious BIG – California (Hype Acapella Drop Intro)
11.Fall Out Boy – Thnks fr th Mmrs (Short Edit/Matt Royal Aca Out)
12.Queen – We Will Rock You (Matt Royal Aca Out)
13.Post Malone feat. 21 Savage x Da Shop Boyz – Rockstar (Diggz Hype Intro)
14.Blink 182 x Flosstradamus – What's My Age Again (Spryte Trap Bootleg)
15.Jimmy Eat World – The Middle
16.Tony Basil – Mickey (Chorus Only)
17.Twisted Sister – We're Not Gunna Take It
18.Your Love – The Outfield
19.Eddie Money – Take Me Home Tonight (Bmore Drum RMX)
20.Stand By Me (Good For Nothing Bmore RMX)
21.Mike Posner – Cooler Than Me (Gigamesh RMX/Matt Royal Super Short Edit/Aca Out)
22.Calvin Harris – Feel So Close (Sweet Child Of Mine Edit)
23.The Who x Avicii x Denix Koyu x Albin Meyers – Baba O Bong Into Darkness (Offenberg Bootleg)
24Flo-Rida feat. Sia – Wild Ones (Aca Out)
Podcast: Play in new window | Download | Embed