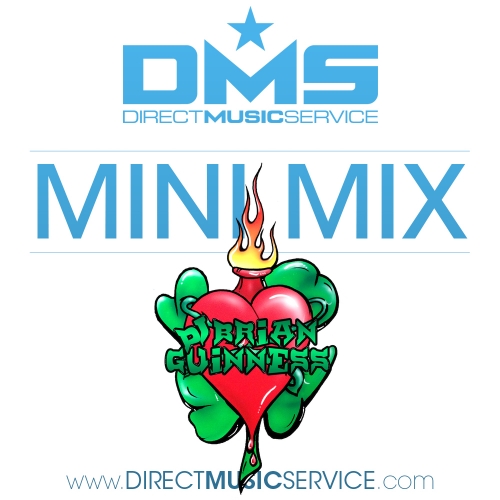 Mix #227 we bring you DJ BRIAN GUINNESS from Cincinnati, Ohio. Over the past few years Brian has continued working to build and improve his nightlife brand around the Cincinnati and Northern Kentucky market. As an open format DJ, able to cross genres and decades Brian holds a couple monthly residencies in the Greater Cincinnati area. He also works with a nightlife bar group in the area to cover shifts of some of the residents, as needed, including DMS' own Fuseamania. In a city full of excellent DJ's including 2 DMS contributors, inspiration, networking, and opportunities are available to those who work hard and put out a professional and quality product. Brian's programming and mixed sets keep dance floors moving and keep him getting booked. He also stays busy wrapping up a 17 year wedding DJ career. Cutting back on weddings and building the nightlife business will actually allow for more family time. Brian is a new father for the second time, with his youngest daughter being born on the morning of St. Patrick's 2016. The mix being submitted is an old school back yard BBQ soundtrack, recorded live. Brian has been adding a these tracks into recent sets. With a few ideas for a mini mix Brian pressed record and this set turned out back yard bar b que ready. Enjoy the summer.
For more information about DJ BRIAN GUINNESS click the links below:
Check out the tracklist after the jump with links to download all of the edit's he used in this mix. Be sure to check back every Monday for a brand new mix.
1. On A Sunday Afternoon (Clean) – A Lighter Shade Of Brown
2. Cantaloop (Flip Fantasia) (Super Short Edit) – US 3
3. A Roller Skating Jam Named Saturdays (Clean / Super Short Edit) – De La Soul
4. Fantastic Voyage (Short Edit – Lakeside
5. Back By Dope Demand (Clean / Short Edit – King Bee)
6. Here We Go – Freestylers ft Definition of Sound
7. Skew it on The Bar-B (DIRTY-Rowshay Intro) – Outkast)
8. Beer (Dirty) – People Under The Stairs
9. I Got A Man – Positive K
10.My Baby Daddy (Evil One Intro) – B-Rock & The Bizz
11.Take It To Da House (Quick Edit) – Trick Daddy Ft. Trina & The Slip-N-Slide Allstars
12.My Boo (Short Edit) Ghosttown DJs
13.Thats The Way I Like It (Re-Drum / Super Short Edit) – KC & The Sunshine Band
14.We Trying To Stay Alive (Short Edit) – Wyclef Jean
15.Shy Guy (Super Short Edit) – Diana King
16.Bustin' Loose (Super Short Edit) – Chuck Brown & The Soul Searchers
17.The Choice Is Yours (Clean / Short Edit) – Black Sheep
18.Stop That Train – Vanilla Ice
19.Wanna Be A Baller (Chorus Only / Super Short Edit) – Lil' Troy
20.Can't Nobody Hold Me Down (Diddy Only / Super Short Edit) -Puff Daddy ft Mase
21.Mack Daddy (Clean) – Bobby Konders & Massive Sounds ft Mikey Jarrett
22.Everything Is Everything (Clean) – Lauryn Hill
23.I Love Your Smile (Super Short Edit) – Shanice
Podcast: Play in new window | Download | Embed