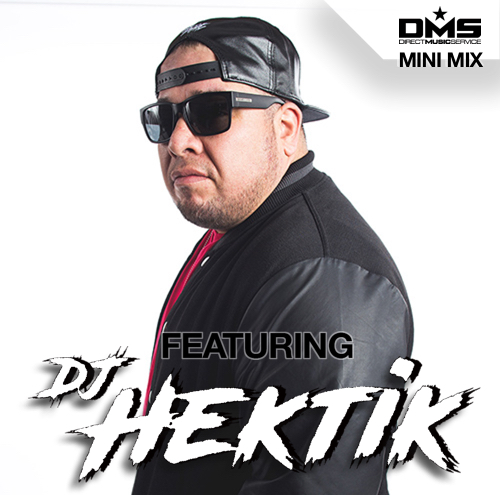 Mix #315 we bring you DJ HEKTIK. Hailing from the City of Angels in Los Angeles, DJ Hektik since 1998 came into the scene and began hitting the ground running with his insatiable love for music. Inspired by Power 106 Mixers like Mr. Choc, Richard Vission, Enrie, and many others, it was during this time that Hektik began incorporating his vision and finding his musical niche with Hip Hop, House, EDM, Rock, Country, as well as mixing music videos and VJing Featured Radio sets on 99.1 KGGI (DJ Lynwood Earthquake Mix), Sirius XM Pitbull Globalization Memorial Weekend Mix and many more and also garnered experience playing venues in Phoenix, LA, Las Vegas, San Diego, Orange County, Riverside, and more.
After creating a very noticeable buzz, DJ Hektik got opening slots for national acts such as Snoop Dogg, 311, Steel Panther, Cypress Hill, Ozomatil, Lakeside, Dazz Band, Alejandra Guzman, and DJs AM, Five, Skribbles, Richard Vission, Alesso, Chainsmokers, and was resident DJ and Artist
Booker for Gotham Nightclub in Southern California from 1999-2004. Hektik landed a gig as the resident DJ at Morongo Casino Mega Club and also as Music/Marketing Director. Hektik also locked in as the resident DJ for Budweiser Summer pool events in Southern California, garnering him a solidified name and impressive critical reception and acclaim throughout the DJ and Club scenes.
Listen to this exclusive mix he made for us at DMS
For more information about DJ HEKTIK click the links below:
Check out the tracklist after the jump with links to download all of the edit's he used in this mix. Be sure to check back every Monday for a brand new mix.
TRACKLIST
1. Foster The People – Sit Next To Me (Stereotypes RMX / Intro)
2. DJ Snake – Magenta Riddim (Lumberjack RMX / Super Short Edit)
3. Foster The People – Sit Next To Me (Stereotypes RMX / Intro)
4. Bazzi – Mine (Dirty / Jengi RMX / Intro)
5. SG Lewis – Coming Up (Intro)
6. Lookas ft Cal – Deep Breaths (Intro)
7. Steve Aoki & Lauren Jaugerqui – All Night (Steve Aoki Moombahton RMX / Intro)
8. ZUES – No Pare (Moombahton / Spanish / Clean)
9. J Balvin ft. Anitta – Machika (Dillon Francis Moombahton Remix / Spanish)
10. Grandtheft – She Knows (Moombahton)
11.Cashmere Cat & Major Lazer ft Tory Lanez vs Dannic – Miss You x Stay (Danny Diggz Bootleg) – 3B
12.Duke Dumont – Inhale (Intro)
13.DRAM feat. Lil Yachty – Broccoli (Party Pupils Remix) (Audio1 Edit) (Dirty)
14.David Guetta, Martin Garrix & Brooks – Like I Do (Chachi & Dstar RMX / Short Edit) – 5A
15.Calvin Harris & Dua Lipa – One Kiss
16.Don Diablo – Momentum (Super Short Edit) – 8A
17.Icona Pop x Twocloud & Bounce Inc x Daav One – I Love Bonkers (Jason Jani Bootleg / Dirty)
18.DJ Snake – Magenta Riddim (Lumberjack RMX / Super Short Edit)
19. MOTi x Sean Paul – Pull Up The Temperature (Danny Diggz Vocal Bootleg) – 8A
20.Beyonce vs. Oliver Heldens – SuperHaters (Danny Diggz Superfresh Bootleg) – 4A
Podcast: Play in new window | Download | Embed