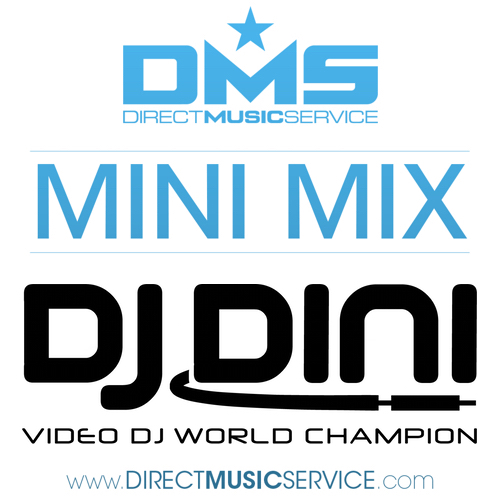 Mix #237 we have DJ DINI from Los Angeles, California.The Video DJ World Champion, will take your club to the next level. As the resident Video DJ for The world Famous W Hotel in Hollywood, DJ Dini is no stranger to high profile events and celebrity clientele. As the nation's premier Video DJ, DJ DINI is constantly in demand across the country with clubs looking for a taste of the Hollywood experience. As video DJs are quickly shifting the landscape of club across the globe, DJ Dini remains on the forefront of new technology with his game changing performances.
As a highly accomplished Battle DJ, DINI's turntable wizardry is unmatched. As professional video editor Dini's clientele include channels such as ABC, MTV, DISNEY XD, CBS, NBC Universal HD, AMC, SPIKE, THE WB, and more. When these passions are combined the result is an amazing performance that is awe inspiring. His ability to scratch and remix music and video simultaneously is unparalleled. Combining championship DJ skills with Hollywood Movie Magic, DJ DINI is the next level of night life.
With 23+ years of high profile DJing experience, DJ DINI has conquered every aspect of the DJ world. The combination of turntable skills, party rocking knowledge, and video editing expertise is unstoppable. This DJing juggernaut has been smashing clubs, battles, mixtapes, radio, and video since 1993. Having performed across the globe from London, England to Hollywood, California and everywhere in between, his reputation is legendary. Early on in his career he was best known for his Hip Hop mixtapes. In the late 90's his party rocking and mixing skills earned him a spot on 91.1 WMUA's Turntable Sweatshop Radio Show which spread his name and reputation across the airwaves. In the early 2000's Dini focused in on the battle game and battled his way to the top of the circuit earning over 30+ DJ Battle Championship Titles. In 2002, 2003, and 2004 DJ DINI represented Los Angeles at the National DJ Championships. In 2012 Dini took on a new challenge of Video DJ Battles and captured the title of VIDEO DJ WORLD CHAMPION at the Video DJ Conference in Las Vegas.
With the advent of Serato, Dini elevated his club game to new heights and made the most of a new technology. Dini expanded his role into production and became renowned remixer and Video mash-up artist. Dini's mixes and Videos are played in clubs all over the world by the biggest DJ's World Wide. As a long time resident for several clubs across Los Angeles including the legendary Cinespace in Hollywood, his party rocking and turntable skills are celebrated by both DJs and party goers. Dini is constantly in demand for some of Hollywood's biggest and hottest events. With a mix of video and sound this crowd motivator electrifies with his musical stylings. His adrenaline packed shows work audiences into a frenzy. Come check out one of his club nights to experience it for yourself and your life will be changed forever…
Listen to this exclusive dancehall and tropical house mix he made for us at DMS.
For more information about DJ DINI click the links below:
Check out the tracklist after the jump with links to download all of the edit's he used in this mix. Be sure to check back every Monday for a brand new mix.
1. Dini Intro
2. Luv – Tory Lanez
3. Tell Me – Beenie Man
4. Flex – Fifth Harmony
5. Say Woeee – Tanto Metro and Devonte
6. Gold -Kiiara (Pete Down Remix)
7. Who Seh Me Dun – Cutty Ranks
8. Bam Bam – Chaka Demus and Pliers
9. Murder She Wrote – Chaka Demus and Pliers
10.Don't You Need Somebody – RedOne ft Enrique, R City, Serayah, Shaggy
11.Memories – Beenie Man
12.Just Like Fire – Pink (WideBoys Remix)
13.Old Dog – Beenie Man
14.Side to Side – Ariana Grande ft Nicki Minaj (Petedown Remix)
15.We Nuh Like – Spragga Benz
16.Cheap Thrills – Sia and Sean Paul
17.Romie – Beenie Man
18.Work – Rihanna (Kleancut Dancehall Re-drum)
19.Wicked Dickie – Buju Banton ft Nadine Sutherland
20.Fed Up – Bounty Killer
21.Cold Water – Justin Bieber
22.Ting A Ling – Shabba Ranks
23.Nah Get No Bligh – Sean Paul
24.The Greatest – Sia
Podcast: Play in new window | Download | Embed