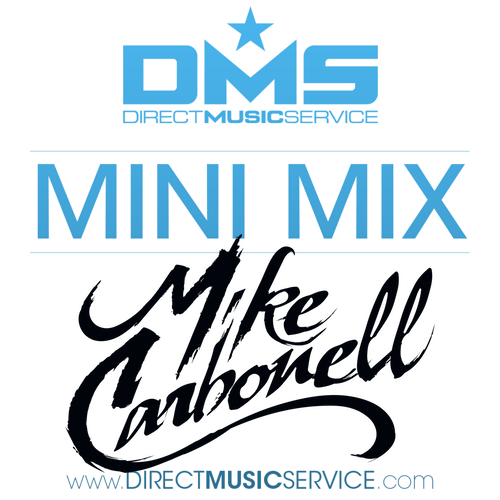 DMS MINI MIX WEEK #204 DJ MIKE CARBONELL by Directmusicservice on Mixcloud
Mix #204 we have DJ MIKE CARBONELL from Las Vegas, Nevada. This Los Angeles native spent most of the late 90's and early 2000's perfecting his craft in Hollywood Nightclubs and Electronic Dance Music events all over Southern California. With a drive and motivation to take on a new scene, Mike set his sights on Las Vegas. He made his move to the desert in 2006 and quickly realized it was the breath of fresh air that he needed. The city not only boasted a unique variety of club venues but a continuous flow of visitors from all over the world. Mike became even more determined to make his mark.
Mike's new challenge not only pushed him to his creative limits but allowed him to continue to master the "Open Format" style. His roots as an EDM DJ gave him the advantage he needed to forge his own signature sound. This talent and passion for playing cutting edge music lead Mike to his well-known residencies at the highly awarded XS and Tryst nightclubs inside the Wynn Resort. "I like to break new music. Whether it be a new genre, artist or track that I think will be hot in the future." His versatility, creativity, and ability to read a crowd has gained him multiple residencies at the most prestigious nightclubs from the West Coast to Macau.
As Mike continues to push himself and the Vegas club scene to new heights, his skills have earned him the respect of his fellow headlining DJ's, industry peers, and club goers from all over the world. In the midst of his hectic schedule, Mike continues to develop his unique sound by producing edits, mash-ups, and remixes. Intent on branching out to reach new levels of fans, and stay connected with those that already know him, Mike can be heard on the airwaves every Saturday night on Las Vegas' own 98.5 KLUC "Club 985 After Hours". Listen to this exclusive mix he made for us here at DMS.
For more information about DJ MIKE CARBONELL click the links below:
Check out the tracklist after the jump with links to download all of the edit's he used in this mix. Be sure to check back every Monday for a brand new mix.
TRACKLIST
1. Propaganda (Trap / Original Mix) – DJ Snake
2. Lookout Weekend (VIP Trap Remix) – Reid Stefan vs. Debbie Deb
3. Where Y At (E-Rock x Clayton William x Wellman Trap Remix / Dirty) – Future Ft. Drake
4. Baller Alert (Horseman Trap Remix / Dirty) – Tyga Ft. Rick Ross & 2 Chainz
5. Down In The DM (All Gold Trap Remix / Dirty) – Yo Gotti
6. Reload (Trap / Dirty) Clips x Ahoy & Hype Turner
7. Starstruck (Trap / Dirty) Styles & Complete +EXSSV + Crichy Crich
8. Drop It Deep Down Low (ETC!ETC! Moombah Mix with Samples / Dirty / Super Short Edit) – Valentino Khan x Ester Dean
9. In My Room (DJ Scene Twerk Remix / Clean) – Yellow Claw & DJ Mustard Ft. Ty Dolla $ign & Tyga
10.ROCK (Onami Trap Remix / Aca In & Out) – Reid Stefan
11.Pussy Pussy (Moombahton / Twerk / Dirty) – B-Phisto
12.Let Me Clear My Scorpion (Henry Fong Bootleg) – Quintino x Hardwell x DJ Kool
13.Bit Patchy (Onami Remix) – Switch
14.Jungle Juiz (Original Mix) – Angger Dimas
15.Tomahawk (Dirty) – Borgore & Caked Up
16.Big Rings (Strip Bootleg / Clean) – Drake x Noodles x Scissors
17.Duckface (Dirty / Short Edit) – Ephwurd Ft. Dkay
18.Dreamer (Michael Andre & SMB Remix) – Livin Joy
19.Whole Lotta Lovin ( Transition 120-60 / Dirty) – DJ Mustard Ft. Travis Scott
20.Where Are You Now White Iverson (Flosstradamus Bootleg / Dirty / Clap Intro) – Post Malone Vs. Jack U
Podcast: Play in new window | Download | Embed