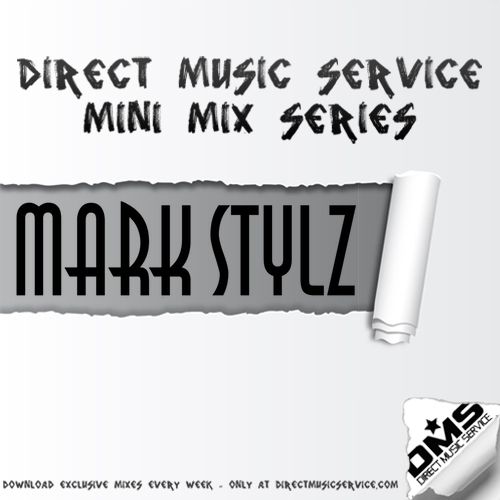 Mix #69 we have DJ Mark Stylz from Las Vegas, NV. Beginning as a BBoy breakdancing in various parks and youth clubs throughout San Diego in the early 80's, it was evident that spinning records would be the natural progression for a young boy who loved the hip hop culture. By the time he was 12, Mark Stylz got his first pair of turntables and hasn't stopped rocking  ever since. After 20+ years of dedication to deejaying, Stylz has had many residencies at some of Los Angeles' hottest and most exclusive niteclubs. The combination of his turntable skills and tasteful music selection has earned him many residencies in Las Vegas and around the country, including Scottsdale, San Francisco, San Diego and Atlantic City (to name a few). You can now find DJ Mark Stylz at the Palms Hotel and Casino as Program Manager and Resident DJ at Playboy Club, Ghostbar, Moon and Rain. Make sure to listen and download this exclusive open format mix he made for us at DMS.
For more information about DJ MARK STYLZ click the links below:
Check out the tracklist after the jump with links to download all of the edit's he used in this mix. Be sure to check back every Monday for a brand new mix.
TRACKLIST
1.

 Bout Me – 




Wiz 
Khalifa
 ft 
Problem 
& 
IamSu

2.

 Dump 
Truck 




E‐40 
& 
Too
Short 
ft 
Travis Porter 
&
 Young 
Chu

3.

 Switch 
Lanes





 – Tyga 
ft
 The 
Game

5. 

Ball / Pop
That
 (Donk 
Transition) – 





T.I.
/
Lil
Wayne
/
French
Montana
/
Rick
Ross

6.

 Pop That
 (Nick
 Catch dubs 
Party 
Break)






 – French 
Montana

7.

 Jah
 No 
Partial 
(Nonsens
rmx) – 




Major
Lazer
 ft 
Flux
Pavilion

8.

 Mercy 
In 
Da 
Paint 
(The
 Melker 
Project 
/ 
RL
 Grime 
&
 Salva 
Trap 
mix) – 





Waka
 Flocka
 Flame
 vs 
Kanye
 West

9.

 Same
 Damn 
Time 
(DJ
E‐V
 Dubstep 
rmx) – 





Future

10.

All 
Molly 
Everything 
(Danny 
Diggz 
ratchet
 club
 mix) 






Trinidad
 James 
vs.
 Cedric
 Gervais

11.

Dutchin' 

(Spryte
Cutdown)



 – Joey Suki

12.

Spacemen
 (CFLO
bootleg) – 





Meek
Mill 
& 
Drake 
vs 
Hardwell

13.

Metropolis
 (Drew
 Pierce
 Edit) – 




David
 Guetta 
&
 Nicki 
Romero

14.

In
 My 
Mind
 (Axwell 
mix) (Drew 
Pierce 
Edit) – 





Ivan 
Gough 
&
 Feenixpawl 
ft
 Georgi
Kay

15.

I
 Won't 
Give 
Up
 (Kids
 At
 The 
Bar
rmx)(Drew
 Pierce 
Edit) – 




Jason 
Mraz

16.

Religion
 Reload
 (Joe 
Maz 
bootleg) – 





R.E.M. 
vs
 Sebastian
 Ingrosso 
&
 Tommy
 Trash

17.

Don't
 Stop
 (dBerrie
rmx)(Drew
 Pierce 
Edit) – 





Foster 
The 
People

18.

Ass 
Back
 Home 
(Ashworth
rmx)(Drew 
Pierce
 Edit) – 





Gym
 Class 
Heroes
 ft 
Neon
 Hitch