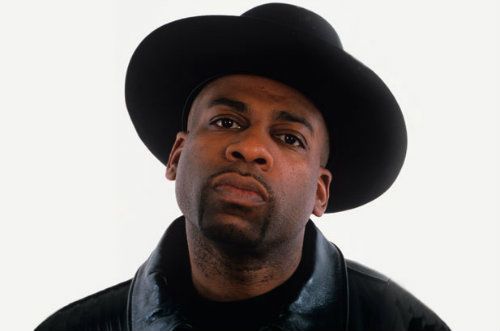 Not enough hip-hop stories end well. About the best we get is that some legendary MC fades away gracefully and grows up and out of the industry, to live comfortably. Jay-Z is the anomaly. For awhile there, it seemed as if Run-DMC were going to age, with relative grace, which would have been, in its own way, a minor victory. They made some great albums, then some not-so-great ones, and from time-to-time, they toured. And then, on October 30, 2002, Jam Master Jay was shot in the head in his Queens recording studio. Ten years later, the murder remains unsolved.
At the time of his death, the police, frustrated by a lack of witnesses willing to come forward, floated a narrative that a 1994 cocaine deal Jay was allegedly involved in, may have led to his death — an old friend turned enemy settling a score. This was swiftly rejected by those close to Jay and it seemed like a telling example of how crimes against people of color are often explained away: "Must have been drugs or something." Not to mention, placing most of the blame on witnesses refusing to cooperate seems insincere, at best. Investigators expect push back from a community, so they receive push back from that community.
Poor police hypothesizing or not, Jam Master Jay's biography does contain scattered events here and there that suggest he was not as squeaky-clean as fans and friends might want to believe. A tall tale-like detail from his life finds him suffering minor tragedies two Christmas days in a row: a car accident one year, the victim of a gunshot the next. Though there isn't much reliable information on the Internet — perhaps due to the worldwide web's lack of sophistication back in 2002 — a few websites (here and here) refer to a story about an alleged cocaine deal in Milwaukee that left Jay ripped off and owing someone a large sum of money. The week before his death, Jay was in Milwaukee, as reported by a friend to MTV News. An MTV News timeline of the events leading up to his fatal shooting note that not long before the attackers arrived, Jay placed a gun on the table in his studio as he played Madden 2002, disturbing the others in the room.
It's easy to take Jam Master Jay for granted. In the 1990s, hip-hop shifted the focus of both lyrics and DJing towards virtuosity and perfection — a shift that the genre, originally birthed out of the same fuck-it-just-do-it spirit as punk, has not entirely shaken, though it certainly should have by now. Not that Jay was any less on-point than say, DJ Premier or Pete Rock, just that his style was wilder, more coarse. He controlled recorded chaos like any good DJ, cutting bits of sound into other bits of sound, but he thoroughly embraced the turntable's noisemaking capabilities. There aren't grooves, or even really loops, on Run-DMC records. You rarely nod your head contemplatively to one of their songs. Jay played his turntable like a guitar, pulling sounds out of it and pushing its function to the limit, while still remaining in the pop realm. "Walk This Way," the mythic "rap-rock" collaboration with Aerosmith is, if you stretch your genre definitions enough, really just two rock groups (or two rap groups) teaming up to make some catchy noise.
"Beats to the Rhyme," from 1988's Tougher Than Leather, is Jam Master Jay's masterwork. There are rhymes on it, but hell if I can remember them. It is, more importantly, a slavishly sewn-together medley of samples, all running around the energetic, submarine radar ping of Bob James' "Nautilus," made so strange by Jay's cutting that you'd think the sounds came from some Maryanne Amacher or Stockhausen composition. Meanwhile, samples of Kurtis Blow and Public Enemy (along with Run-DMC themselves) talk to old James Brown records. Jay was rewriting the black music syllabus with this one, putting James Brown's voice in conversation with his group and their hip-hop peers and placing them all in the same tradition.
Jay-Z and Kanye West would attempt the same thing on Watch the Throne, injecting James Brown samples (plus Otis Redding) into their baroque raps, implicitly telling listeners that they were the logical extension of the soul and funk tradition: Wildly popular, ambitious, black, and proud. Watch The Throne took 46 minutes to do what that cut from Tougher Than Leather did in less than three minutes. The song speaks through Jam Master Jay's forward-thinking sample assemblage. If that's all a little too heady, don't forget the sample of shock comedian Sam Kinison screaming, "Dick in your mouth all day!" It's an explicit moment that made clear Run-DMC's raw aggression. It also foreshadowed a desperate quality to their later work, as their style of hip-hop swiftly became uncool. After Tougher Than Leather, Run-DMC kept going, and Jam Master Jay had his hands in the success of Onyx and 50 Cent. But mostly, the group quickly moved on to a legacy career.
The limited evidence about Jay's shooters is likely due to lack of cooperation with the police, and partially due to aggressive and clueless police work. But it's certainly no surprise that witnesses to the crime stopped short of identifying the shooter. Moreover, Jay's death seems inextricably tied up with the phenomenom known as "Stop Snitching." Refusing to rat on somebody wasn't anything new, but the street code permeated popular culture in the early 2000s. In my hometown of Baltimore — perhaps ground zero for the so-called "movement" — mall kiosks sold "Stop Snitching" t-shirts. A friend who attended the University of Maryland recounted a Business Ethics course in which numerous students cited "Stop Snitching" as a reason they wouldn't report, say, embezzling.
The evolution of "Stop Snitching" became one more way for criminals to further take control of their neighborhoods. A motto that once sounded reasonable — "Don't rat on your friends if you did some dirt" — lost its nuance and became, out of fear and a perceived dedication to some street code, a refusal to cooperate, at all, about anything. The path towards solving the murder of Jam Master Jay, a rap legend working in his studio, was undoubtedly impeded by the more noxious strain of "Stop Snitching."
So, Jam Master Jay, maybe a victim of random violence, perhaps tangentially involved in illegal activity, is dead. And in death, he is the victim of cynical police work, of family, friends, fans, a music industry not willing to accept that he was less than perfect, and of "Stop Snitching." Many of us have become less interested in "justice" because most of us know the system itself is unjust. But there's also some sense that if the investigation was wrapped up, it would show there was at least some concern for the tragedy of a rap legend shot execution-style. That would be the reward — not revenge, or knowing that someone was going to rot in jail or get the death penalty. For now, Jam Master Jay's final act, like far too many in hip-hop, remains unresolved. We rap fans are just used to it at this point.
[via spin]
DOWNLOAD ON DMS