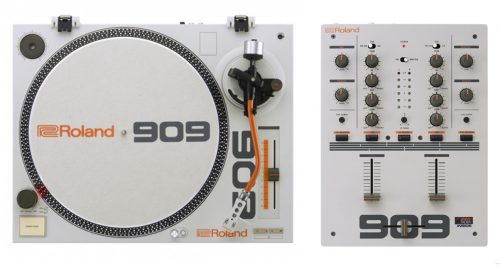 Roland is to start manufacturing vinyl DJ gear with two new products: the TT-99 turntable and DJ-99 mixer.
Both products have been designed to look like the classic TR-909, with the same grey and orange livery. The reveal follows the announcement of Roland's revival of the drum machine in compact form, the TR-09.
Apart from the TT-99 looking a lot like a classic Technics SL-1200 with a fancy paint job, there's not much to distinguish it from other turntables on the market. However, it does have an affordable price point of $349, which puts it on a par with Pioneer DJ's most recent offering.
Similarly, the DJ-99 is just a simple two-channel mixer, though it is reasonably priced at £249. Apart from a dedicated DVS output for digital DJs, it's as basic as they come. A release date for both is yet to be confirmed.
The 909-themed gear isn't the only DJ equipment launched by Roland as part of its 909 Day celebration. The company has also teamed up with Serato on the DJ-808, a combination of DJ controller and drum machine.