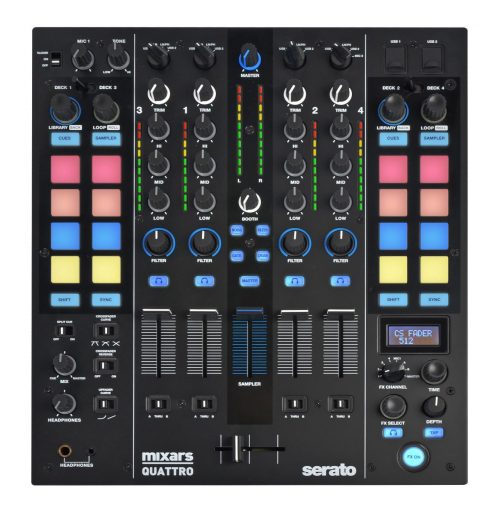 MIXARS is pleased to announce QUATTRO, a Professional 4-channel mixer for a forthcoming release of SERATO DJ with dual USB audio connection, 16 RGB control pads and effect control section.
Utilizing RCF Group's experience in designing and engineering top-notch components, MIXARS launch the QUATTRO, a full-feature mixer made to conquer the club scene with superior audio quality completely integrated with the world-renowned software, SERATO DJ.
The QUATTRO achieves the best layout, control, and reliability thanks to its 16 RGB pads, four effects (Filter, Noise, Gate, Crush) for each channel, FX section with 14 additional effects, send/return, and dedicated sampler volume.
The 16 RGB backlit LEDs give a visual feedback and reflect cue points pre-set in SERATO DJ and allow instant triggering for Hot Cues or Sampler.
The QUATTRO features the best high-quality audio output, ensuring superb sound quality in a club, in a small venue or at home. The dual USB ports lets hook up two laptops for easy changeover.
The QUATTRO with SERATO DJ has an intuitive layout, providing the advanced features DJs require such as browsing the library, loading tracks, control sync, create and modify auto loops, and much more.
The QUATTRO simultaneously supports control-signal and playback for four DVS decks in SERATO DJ
The QUATTRO's FX section controls provide 14 additional high-quality effects designed in Italy from experience of the MIXARS R&D Team.
"The MIXARS QUATTRO represents the missing link inside the market of professional 4 channel mixer." -Tobias Noetzel (Mixars Brand Coordinator)
Key Features:
4-Channel Digital Mixer for SERATO DJ
16 RGB PADS with Hot Cue and Sampler control
Dual USB audio connections
2 Microphone Inputs
Dedicated 4 high-quality effects for each channel with a single knob
Completely MIDI mappable
Microphone Input
Trim Output master volume
24-bit digital output
Rugged metal construction
Auto loop encoder
Sampler switch
Dedicated Sampler Volume
Effects send/return
U.S. retail pricing for the Quattro is $1499.00
Availability is Spring 2017 with a forthcoming release for Serato DJ.