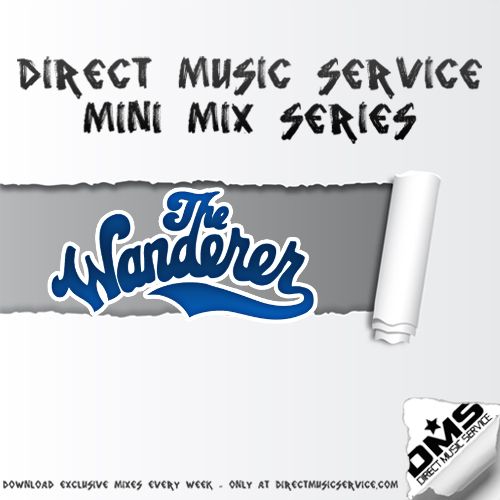 Mix #35 we have THE WANDERER from So. California. He has been in the club industry for over eighteen years, The Wanderer made a name for himself by spinning '80s music in Los Angeles nightclubs throughout the '90s. As the scene changed, so did The Wanderer. Deciding to broaden his music type and diversify his fan base, he changed his approach. He now plays many genres of dance music, open format being his favorite. In addition to his mixing talents he is now producing, editing, and remixing for several popular DJ remix, video and edit sites. Wanderer remixes and edits have exploded in the scene and you can find many DJs around the globe enhancing their sets with his work. His high energy and passion for music is well represented in his live performances as well as his remixes and edits. Download and Listen to his open format mix that he made for us at DMS.
For more information about THE WANDERER click the links below:
Check out the tracklist after the jump with links to download all of the edit's he used in this mix. Be sure to check back every Monday for a brand new mix.
TRACKLIST:
1. Busta Rhymes – Bounce To The Beat (Acapella Loop)
2. DJ Falk -House Of God (2012 Update) (Tujamo Remix) (19Sixty…
3. Calvin Harris Ft. Kelis – Bounce (Loop Intro) (DMS Intro)
4. Hypercrush Vs. Nicky Romero – Werk Me Toulouse (DMS Intro)
5. James Brown – Get Up Offa That Thing (Re-Drum) (Quick Hitter)
7. Kicks Like A Mule – The Bouncer (Edit) (DMS Intro)
8. Yeah Yeah Yeahs – Heads Will Roll (Kid Kamillion Trap RMX) (Short Edit)
9. Klaas – Do What You Do (Original Mix) (Diggz Quick Hitter)
10. David Guetta Ft. Sia – She Wolf (Falling to Pieces) (Sandro Silva Remix / Short…
11. Firebeatz & Schella – Dear New York
12. King Amir – Samir's Theme (Oh Snap!! Trap Remix) (Short Edit) (DMS…
13. Fuski, Dodge – Pornstep Ft. The Highbury Whores (Original Mix)
14. Acapella Drop – Why You Stoppin'
15. Morrissey – Suedehead (Wanderedit)
16. The Clash – Clampdown (Quick Edit) (Wanderedit)
17. Tommy Trash – Sex, Drugs, Rock & Roll Loop W/Claps
18. Guns N Roses – Sweet Child Of Mine (Edit) (DMS Intro)
19. Sugar Hill Gang – Apache 2010 Bmore (Edit) (DMS Intro)
20. Tag Team – Back To The Old School (DJ BeatBreaker Loops)
21. The Tramps – Disco Inferno (Deville "Epic Intro Breakdown" Edit) (Dirty)
22. Trans-X – Living On Video (DMS Intro)
23. Speedy J vs. Kid Da Funk – Pullover 2010 (Bootleg)
24. House Of Pain – Jump, Jump Loop
25. House Of Pain – Jump Around (Micky Slim Shamrocks Edit)
26. Chuckie vs. House Of Pain – Who Is Ready To Jump (Chuckie Jump Around Bootleg)
27. Wolfgang Gartner – Animal Rights (Kids At The Bar Remix)
28. Knife Party – Internet Friends (Revolvr Bootleg)
29. Steve Aoki – Angger Dimas – Beat Down feat. Iggy Azalea (Afrojack Remix / Spryte C…
30. Electrixx – Tetris (Original Mix) (Short Edit) (DMS Intro)
31. Bloody Beetroots ft. Steve Aoki – Warp 1.9 (Quick Edit) (DMS Intro)
32. Kevin Scott – The Roof Is On Fire Loop
33. Laidback Luke – My G.O.D. (Guns On Demo) (Wanderer Edit)
34. Dada Life – Kick Out The Epic Motherfucker (Short Edit) (DMS Intro)