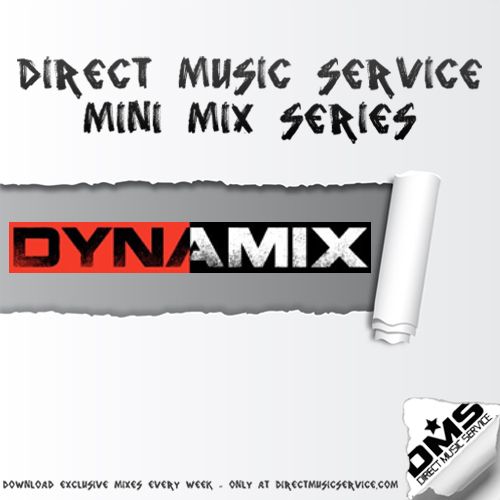 Mini Mix #81 we bring you an exclusive mix by DJ DYNAMIX from Los Angeles, CA. Known for his appearance on VH1's Master of the Mix and winning the Red Bull Thre3style in LA 2 years in a row, Dynamix has enjoyed a career laden with accomplishments. Dynamix has taken the party-rock battle scene by storm, being dubbed "King of LA" after winning the King of LA DJ Battle, followed by the Beezo Battle, Mai Tai Rumble, and the highly coveted Winter Music Conference Scratch Battle.
From television to radio appearances, concerts or corporate events, and the hottest clubs throughout the country, Dynamix commands a captivated audience. A classically trained pianist, he uses his musical knowledge to create his innovative style, blending seamlessly through an array of genres including rock, pop, funk, soul, hip-hop, and house, effortlessly demonstrating his dexterity while incorporating turntablism into his sets. Dynamix remains in constant rotation showcasing his mixes on The World Famous Wake Up Show, Power 106's Jump Off Mix, and Shade 45's Soul Assassin's Radio Show. His sets have graced the most exclusive clubs, namely Supper Club, Drais, Playhouse, Teddy's, and Soho House in Los Angeles, as well as Rain and Playboy Club in Las Vegas. Having branded himself as a premier DJ in the industry, his corporate clients include Red Bull, Royal Caribbean, Disney, Cover Girl, H&M, Fiat, and US Magazine. His reputation has not gone unnoticed by Hollywood's elite, as he was also the DJ for Nicole Richie's wedding.
As one of the original instructors for the Los Angeles chapter of the highly recognized Scratch DJ Academy and an online instructor for TurntableU.com, Dynamix instructs, inspires, and influences aspiring and established DJ's through his expansive knowledge and comprehensive expertise, preserving his legacy through the next generation of DJs while remaining at the top of his game.
For more information about DJ DYNAMIX click the links below:
Check out the tracklist after the jump with links to download all of the edit's he used in this mix. Be sure to check back every Monday for a brand new mix.
Tracklist:
1. Pharoah Monch – Simon Says Boneless (Transition 100-128-Segway / Super Short Edit)
2. ReepR – Old School Party (Bedtime Short Edit)
3. Glowinthedark & David Guetta – Party Without Me (DIRTY-DJ JP Breakdown Intro)
4. TJR – Whats Up Suckaz (Original Mix)
5. TJR vs Calvin Harris – Flashback Suckaz (Rye's Prime Time Bootleg)
6. Whiskey Dicks – Everyday Pimpin
7. The White Stripes – Seven Nation Army (Dirty-Brass Knuckles Slow Down Bootleg / Short Edit)
8. Macklemore & Ryan Lewis ft Ray Dalton – Can't Hold Us – J. Espinosa 130-146 Transition (Clean)
9. Macklemore & Ryan Lewis – Can't Hold Us (OG to Major Lazer Remix) (Simo 73 to 77.5 Transition)
10.Waka Flocka Flame – Brick Squad Anthem (Mayhem x Antiserum Trap Mix / Clean)
11.Jay-Z – Tom Ford (Play-N-Skillz Trap RMX / Dirty / Super Short Edit)
12.Jay-Z ft. Rick Ross – FuckWithMeYouKnowIGotIt (THUGLI Remix)
13.Schlachthofbronx – That G-String Track (CRNKN REMIX)
14.Purple Ribbon All Stars vs Hardwell – Spacemans Kryptonite (SyFrs Trap Bootleg / Clean)
15.TNGHT – Higher Ground [Big Once's F*ck Urrbody Mix]
16.TNGHT – Higher Ground (OG to RMX) (Yona 80-108 Short Transition)
17.L!Z – Bounce (DIRTY-Donk "ACAPELLA OUT" Quick Edit]
19.Lil Chuckee Feat. Little Richard – Do Wop (Pickster Bootleg)
20.Clipse – Grinding (Rumiez Twerk Remix)
21.Dr. Dre – The Next Episode [Explicit]
22.B.O.B. ft. 2 Chainz – Headband (Dirty)
23.2 Chainz – I'm Different (ENFERNO RMX)
24.French Montana ft Tyga & Ace Hood – Thrilla In Manilla (Dirty)
25.LoveRance ft Iamsu & Skipper – Up (Beat The P#ssy Up) (Intro – Dirty)
26.LL Cool J Vs The Black Eyed Peas – Mama Said Boom (Dj Steve1der)(Transition 103-130 Bpm)
28.Richard Vission vs Luciana – Primitive (Richard Vission Remix)
29.Rihanna, David Guetta x Vicetone – Right Now (Christyle Strike Bootleg)