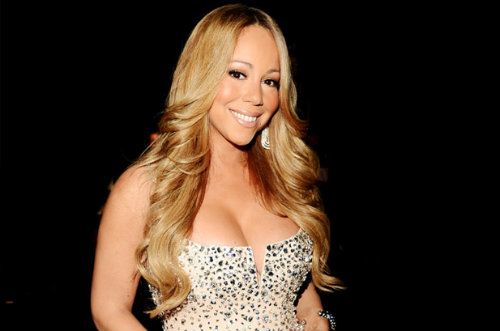 Mariah Carey has signed on as a judge for the 12th season of "American Idol," Fox president Kevin Reilly confirmed to reporters at the Television Critics Association's summer press tour Monday.
"I'm so excited to be joining 'Idol,'" Carey said on a phone call during the presentation. "I wanted to be there today and I wish I could have been there myself to tell you. I can't wait to get started in a couple months."
Speculation on Carey's pay has run from $12 million per season to $17 million. Her manager is Randy Jackson, who reportedly has suggested to "Idol" producers over the years that she join the show.
"As a singer, songwriter and producer, it's going to be fun and rewarding to help find new talent and give back with 'American Idol,'" Carey said in a statement. "I'm currently in the studio working on my new album and its first single, 'Triumphant,' which will be out early next month. I can't wait to channel my creative energy as a part of this show which is a massive global phenomenon."
Ever since Steven Tyler and Jennifer Lopez both announced that they were leaving "Idol" earlier this month, rumors have been circulating that Carey would join the panel.
During the same TCA press event, "Idol" producer Nigel Lythgoe told reporters that he would ideally like to see the judges change each year, and also implied that Jennifer Lopez was not necessarily finished with the singing competition series. She went on Ryan Seacrest's radio show earlier this month, however, and said that she wants to leave "Idol" to get back to the other parts of her career.
Carey's new album will be released in early August by Island Def Jam Music Group. She has 18 No. 1 singles on Billboard's Hot 100 chart — more than any other solo artist in history. Among all acts, only the Beatles, with 20, have more. She has scored 16 top 10 albums on the Billboard 200 chart, with six of them reaching No. 1. Her most recent studio album, 2009's "Memoirs of an Imperfect Angel," debuted and peaked at No. 3 and has sold 540,000 in the U.S. according to Nielsen SoundScan.
"Idol" creator and executive producer Simon Fuller said in a statement, "We are proud to have one of the world's greatest-ever female singers join our show. Mariah defines the word 'Idol' and will inspire every singer that has the honor of performing in front of her."
There has been no word on who else will sign on to judge "Idol's" upcoming season, although stars from Adam Lambert to Aretha Franklin have expressed their interest in the show.
[via BB]
DOWNLOAD ON DMS