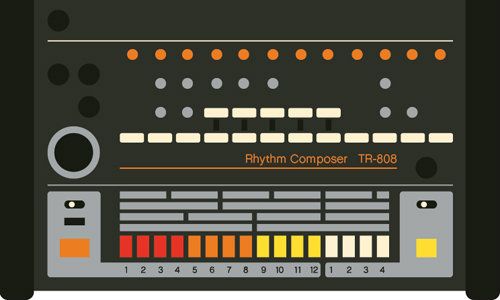 "Today is August 8, also known as 8/08, so we figured today would be a pretty good day to celebrate one of the greatest and most influential musical instruments of our generation, the Roland TR-808 drum machine. Released into the world in 1980, the synthesized drum sounds featured a never-before-heard ultra low bass frequency which would go on to rattle speakers and forever change the spectrum of modern music. So turn your speakers UP and enjoy some of our favorite songs featuring the legendary 808!"
After the jump watch some videos that feature the legendary 808.
The first band to use the TR-808 was the Japanese electronic music group Yellow Magic Orchestra, as soon as it was released in 1980. One of the earliest uses of the TR-808 for a live performance was by Yellow Magic Orchestra in December 1980 for the song "1000 Knives," an electro rendition of member Ryuichi Sakamoto's "Thousand Knives" (1978). The hand-clap sound was later publicized by YMO's innovative album BGM, which was released March 1981 in Japan; used again on "1000 Knives" and in "Music Plans," another of Sakamoto's songs. The TR-808 would later be further popularized in 1982, with the release of the mainstream American hit "Planet Rock" by Afrika Bambaataa.
Afrika Bambaataa & The Soul Sonic Force – Planet Rock
2 Live Crew – Throw The D (CLEAN- Jason Bee Quick Edit)
Sir Mix-A-Lot – Posse On Broadway