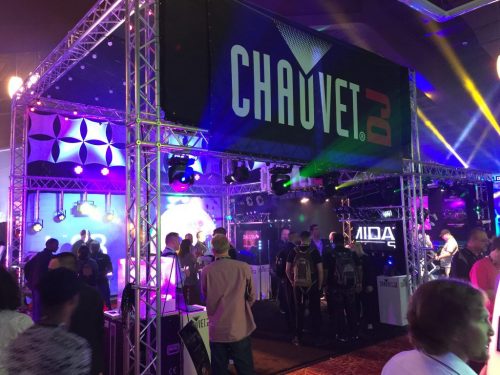 "Too many DJs in the house, yeah"
That's not just a line from a techno classic, it's damn true when it comes to attending DJ expos and conventions. This week marks the 22nd annual Mobile Beat convention in Las Vegas, one of only two large-scale mobile centric DJ shows in the United States. Sadly, for the first time in eight years I had to sit this one out.
Mobile-centric DJ shows are a mixed bag, that goes without saying. You're going to see everything from super interactive (read: super cheesy) to high level – world class talent. Education will range from extreme novice to next level. And the expo hall? It's a sensory experience like none other. Flashing lights, 2,000 different sources of blaring, chest pounding music coming from every direction. Controllers, turntables, speakers, microphones, lights, fog and haze machines. It's quite the experience, and perhaps one of the absolute worst places to have a hangover.
When answering the question of if an investment into a DJ trade show is worth it, I always resoundingly answer yes.
Let's look at the costs you can expect.
The actual cost of getting a pass to the show.
Tip: You'll always want a full pass. This gets you access to education & seminars, the expo floor and any expo related parties
Pro Tip: Ask your favorite equipment retailers or any vendors you might know that are taking place in the show for hookups. Often times they're given a large number of discounted or even free passes to the show.
Travel/Flights
Tip: The good news is, in the case of Mobile Beat at least is that flights to Vegas are pretty affordable from just about anywhere. Unfortunately this isn't the case for the DJ Times expo in Atlantic City where you've got to fly into Philadelphia and make arrangements to get to Atlantic City from there.
Pro Tip: My go-to for tracking flights is google.com/flights, you can enter the dates you'd like to travel and track price jumps and decreases. From my experience you'll typically find the best prices about 3-4 weeks out on a Tuesday or Wednesday.
Hotels
Tip: Fortunately hotels in Vegas can be super affordable, same goes for Atlantic City.
Pro Tip: Travel with a DJ homie and split the cost.
Grub
Tip: Splurge. Seriously, I'm a foodie (yes, when I'm not meticulously tracking my calories and macros I will pig the f*** out) There's no better time to network and make friends throughout the industry then while eating a great meal and enjoying some refreshing drinks.
Pro Tip: Don't be cheap. It's a tax write-off.
Drinks/Nights Out
Tip: Obviously this is a huge part of the show. You're not working, you're in a city with world class DJ's playing in some of the biggest clubs the U.S. has to offer. The advice I'd give (not that I've always followed it) would be to sip, enjoy the nights out and learn from the experiences. The music, the psychology of the lighting. There's always something you can take away and bring home to your market, something to make you stand out from the herd.
Pro Tip: Mingle outside of your typical inner circle and find new homies to hang with.
Which leads me to my biggest "pro" in the list of why I find attending DJ expos so valuable. The networking and friendships you'll develop. Think about it, you might be a big or small fish in your market. You may be at it for 10+ years, you might be brand new to the game. Guess what? There are people just like you, in different markets. Expos and conventions are great for developing friendships across the industry with people like you, and people that you aspire to be like. The conversations with colleagues and homies that can help you learn from their past mistakes and their successes are truly what makes the shows I choose to attend worthwhile.
As for me, I'll see everyone at DJ Times in Atlantic City in August and I'm super excited to make my return to Mobile Beat in 2019.