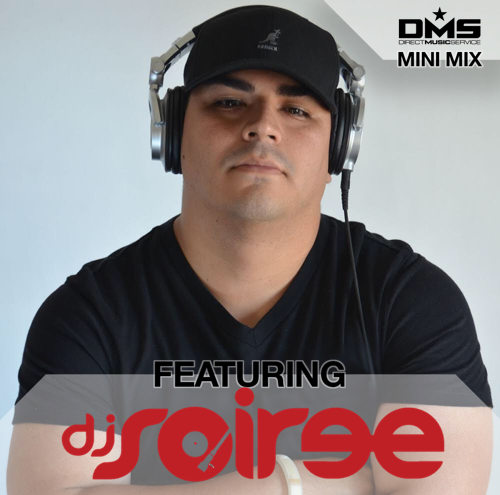 Mix #291 we bring you DJ SOIREE from Albuquerque, New Mexico. DJ Soiree has had a passion for music and DJ'ing since his childhood days. Inspired by the late DJ AM, Soiree has adopted a similar style to AM as an open format DJ. He loves blending various genres of music as a "genre bender."
He spent 7 years in Seattle, WA where he played alongside a slew of talented DJ's at high profile events, venues and clubs. Now back in his hometown of Albuquerque; you can tune in to his mixshow- The Saturday Night Block Party on 93.3KOB FM in addition to clubs and venues all across the city. He has consistently been recognized as one of the Top 5 DJs for Albuquerque The Magazines Annual- "Best of The City Edition" for four consecutive years. Soiree can also be heard on the Fit Radio app (the App stores #1 workout music mobile app for Android and iOS) where you can hear more of his mixes. Soiree continues to focus on building his name and brand on the domestic and international stage. Listen to this exclusive mix he made for us at DMS.
For more information about DJ SOIREE click the links below:
Check out the tracklist after the jump with links to download all of the edit's he used in this mix. Be sure to check back every Monday for a brand new mix.
TRACKLIST:
1. Luis Fonsi & Daddy Yankee ft. Justin Bieber vs. Enur vs. Firebeatz – Despacito Calabria
2. Charlie Puth – Attention (Bingo Players RMX / Short Edit)
3. Justin Bieber & Bloodpop – Friends (PeteDown Remix – Short Edit)
4. DJ Khaled – Wild Thoughts (Dave Aude Dance Remix) Dirty
5. J Balvin ft. Willy William – Mi Gente (Moombahton Remix / Spanish / Clean)
6. Daddy Yankee x Dillon Francis – Gasolina Candy (OXV Edit)
7. The Weeknd ft. Daft Punk – Starboy (Joe Maz RMX / Dirty / Short Edit)
8. French Montana ft Swae Lee – Unforgettable (Joe Maz RMX – Dirty – Short Edit)
9. DJ Snake & Lil Jon vs Flosstradamus GTA & Lil Jon – Turn Down For Prison Riots (Intro) Soiree Bootleg 100-75
10.Flosstradamus-feat.-Casino-vs.-Party-Favor – Mosh-Pit
11.Drake x Jack U – Both Febreze (Joe Maz Bootleg – Clean)
12.A$AP Ferg x Skrillex x Rick Ross – New Level Purple Lamborghini (Flosstradamus Trap Bootleg – Dirty)
13.Lil Jon x Skellism ft Terror Bass – In The Pit (Trap – Dirty)
14.Post Malone ft. 21 Savage – Rockstar – Eighty-M Acap Intro (Dirty)
15.The Weeknd vs Boombox Cartel Back to You Party Monster – Soiree Bootleg (Dirty)
Podcast: Play in new window | Download | Embed