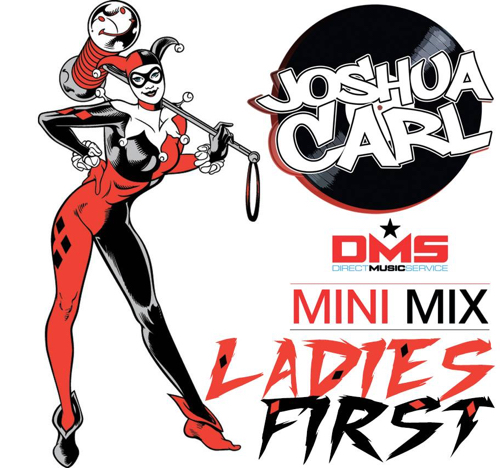 Mix #262 we bring you DJ JOSHUA CARL from Boston, Massachusetts. Joshua Carl returns after his very well recieved New Jack Swing DMS mix last year with some
strictly for the ladies classics. Mixed up live with plenty of rare remixes, acapella trickery and cuts to make any lady proud. Clocking in Just over an hour this is the kind of mix you can send to your sister, but buyer beware this mix is the dirty/club cuts. So maybe not to grandma or your 6 year old niece. Enjoy and as always: GIRL POWER!
For more information about DJ JOSHUA CARL click the links below:
SNAPCHAT – @djjoshuacarl
Check out the tracklist after the jump with links to download all of the edit's he used in this mix. Be sure to check back every Monday for a brand new mix.
1. Intro
2. Where my girls at – 702
3. Girl on Fire (Inferno Remix) -Alicia Keys ft Nicky Minaj
4. Funkdafied – Da Brat
5. Steelo – 702 Ft Missy Elliot
6. Back & Forth (Mr. Lee Club Mix)-Aaliyah f. R. Kelly
7. No Scrubs [BlenX] -TLC
8. Afro Puffs (Dirty)-The Lady Of Rage f. Snoop Dogg
9. 3 Tha Hard Way (Dirty)-Bahamadia f. K-Swift & Mecca Star
10. U.N.I.T.Y. -Queen Latifah
11. Lost Ones -Lauryn Hill
12. Love On Top- Beyoncé | Tedsmooth Remix
13. Right Here (Human Nature Remix)-SWV
14. Human Nature (Radio Edit)-Madonna
15. Georgy Porgy -Eric Benet feat Faith Evans
16. Poor Georgie- MC Lyte
17. Head over heals -Allure ft Nas
18. Hold On -En Vogue
19. Wishing On A Star (Jeep 12inch Version) – The Cover Girls
20. I know where It's At (Joshua Carl) – All Saints
21. Oops!…I Did It Again [Ospina's Crossover Mix]- Britney Spears
22. Rebirth Of Slick – Digable Planets
23. Tell Me (6 Karat Hip Hop Mix-Groove Theory
24. Back To Life (Acapella)-Soul II Soul
25. Crazy In Love- Beyonce ft Jay Z
26. Quiet Storm – Mobb Deep ft Lil Kim
27. Candy-Foxy Brown ft Kelis
28. MenU-Cassie
29. Heartbreaker (Remix) – Mariah Carey ft Missy Elliott & Da Brat
30. Pretty Girl Rock Vs Single Ladies – Beyonce vs Keri Hilson
31. Love will never do without you- Janet Jackson
32. Ain't Nobody (Skillz 808 Redrum) Chaka Kahn
33. Solid- Ashford & Simpson
34. I Can't Wait – Nu Shooz
35. Do You Know (What It Takes) [E-Smoove Bounce Mix Edit] – Robyn
36. Don't Walk Away (Mack Daddy Stroll Mix)- Jade
37. Big Bad Momma -Foxy Brown ft. Dru Hill
38. Express Yourself- Salt n Pepa
39. Ladies first- Queen Latifa ft Monie Love
40. It's A Shame (Rowshay)- Monie Love
41. Wannabe (Clean) (Acc In & Out) (Armed With Harmony)-Spice Girls
42. We Run this – Missy Elliot
43. 1, 2 Step- Ciara
44. Milkshake – Kelis
45. Gonne make you Sweat (everybody dance now)- C&C Music Factory
46. Im Every Woman (Mario Santigo Blend) Whitney Houston vs Jason Derulo
Podcast: Play in new window | Download | Embed