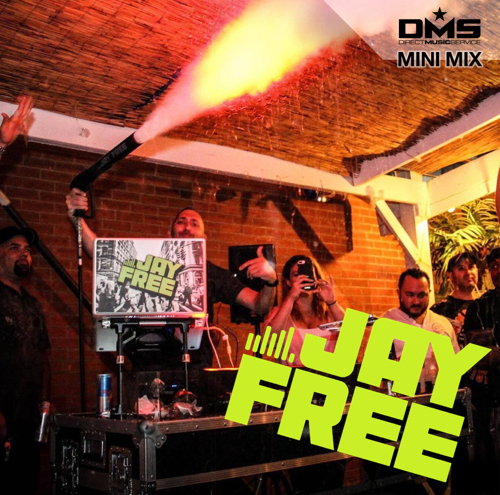 Mix #280 we have DJ JAY FREE from Providence, Rhode Island. From Boston to NYC and anywhere in between, Jay Free (a.k.a. Jason Friese) has rocked some of the hottest bars and clubs up and down the East Coast. He's been on the scene since 2001 and has held residencies at some of the hottest venues in CT. Jay considers his style to be a journey through sound, constantly
playing vocals that will make you move your feet… His number one priority is to ensure the crowd has a great time wherever he is performing. Jay's exclusive
mixes and the way he reads a crowd only add to that vibe.
Over the years, Jay has held residencies and promoted events across Fairfield and New Haven Counties, catching the eye of club owners and promoters statewide. In mid-2005, he relocated to the Hartford area where he quickly gained a large following DJing the city's largest club on its most popular night. Currently residing in Providence, Rhode Island, Jay spends upwards of 100 nights out of the year behind the decks at large entertainment destinations such as Mohegan Sun Resort Casino & Foxwoods.
You always have a choice when booking a DJ. While most DJ's specialize in one genre of music, Jay can seamlessly integrate house to hip-hop, rock to pop. Resembling an Iron Chef excitedly preparing for culinary battle, Jay exudes passion and energy on the decks, delivering each new track with fluid precision. Listen to this exclusive mini mix from DJ JAY FREE.
For more information about DJ JAY FREE click the links below:
SNAPCHAT – @DJJAYFREE
Check out the tracklist after the jump with links to download all of the edit's he used in this mix. Be sure to check back every Monday for a brand new mix.
1. John De Sohn – Hum With Me
2. Niall Horan – Slow Hands (Jay Pryor Remix)
3. Zedd & Liam Payne – Get Low
4. Oasis – Wonderwall – CAMS Middle Bootleg
5. Chance The Rapper – All Night
6. DJ Khaled – Wild Thoughts – Wellman Remix
7. Bumaye Fiesta
8. Camila Cabello ft Nyanda Craigy T – Crying In The Club (Pink Panda Remix)
9. Linkin Park – In The End
Podcast: Play in new window | Download | Embed