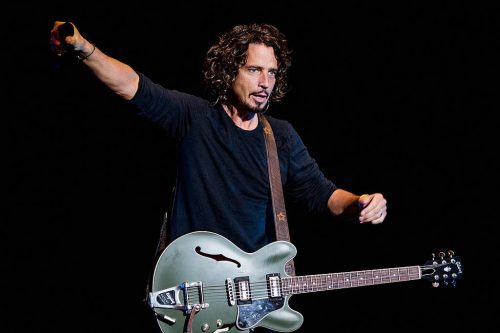 Chris Cornell's death has been ruled a suicide by hanging by a medical examiner, the Associated Press reports. The Soundgarden singer was found dead in a Detroit hotel room by police on Wednesday (May 17) night. The rock legend was 52.
Just hours before his death, Cornell performed with Soundgarden in Detroit's Fox Theatre, appearing in good spirits to those in attendance and even talking about "the next place we play" during the show.
Predating pioneering grunge bands such as Nirvana, Pearl Jam and Alice In Chains, Soundgarden formed in 1984 and were instrumental in the codification of the Seattle-based genre. He also joined forces with Rage Against the Machine members in 2001 to form the supergroup Audioslave. In 2002, Cornell went sober, speaking openly about his addiction to alcohol and pills.
Cornell's first wife was Soundgarden manager Susan Silver. They had one child, Lillian Jean, in 2000, and divorced in 2004. He married Vicky Karayiannis in 2004; they had two children together, a daughter in 2004 and a son in 2005. In the philanthropic realm, the couple co-founded the Chris and Vicky Cornell Foundation to support homeless, abused and impoverished children.
Prior to Cornell's death, Soundgarden had been working on the follow-up album to 2012's reunion album King Animal.
DOWNLOAD ON DMS