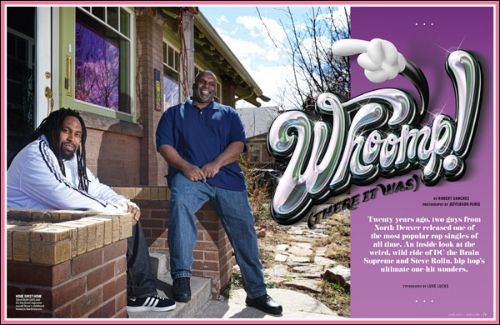 Twenty years ago, two guys from North Denver released one of the most popular rap singles of all time. An inside look at the weird, wild ride of DC the Brain Supreme and Steve Rolln, hip-hop's ultimate one-hit wonders.
"How do you spell 'Whoomp'?"
Steve Rolln was on the line with his man DC the Brain Supreme. DC had been talking to three strippers—Cinnamon, Chocolate, and Dark-N-Lovely—who'd just gotten back from Miami and had told DC, who was a strip-club DJ, about a chant that had gone viral in the South Florida clubs: "Whoomp! There it is." It was difficult to decipher at first; the refrain was so guttural, so dirty. Was it "whoop" or "whoops" or "woot"? No, no, no. It was whoomp, a bit of ingenious, onomatopoeic strip-club slang to which someone had appended the phrase "there it is." A woman takes it all off, and—Whoomp! There it is. DC was on it. He wanted to take those four words, wrap a beat around them, and make a song. A party song. The party song.
Read the rest of the article HERE.