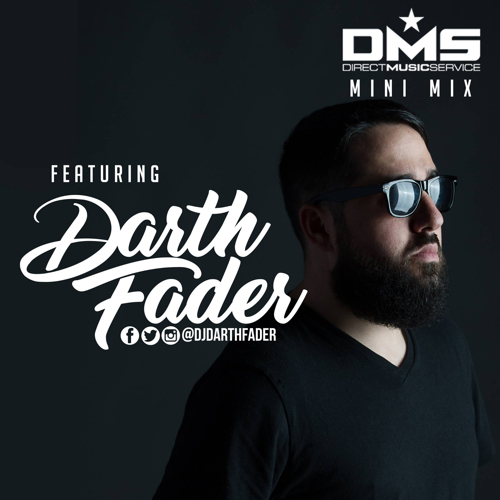 Mix #270 we bring you DJ DARTH FADER from the East Coast. With two parents both in the music industry, DJ Darth Fader (Brandon Blain) got his first taste of the scene at three years old, and never looked back. The music of the 80s and 90s cemented a love for the craft that has translated into a successful full time entertainment business today. Dj Darth Fader effortlessly navigates through all genres and styles. Sought out for everything from New England's top nightlife clubs to family friendly entertainment for the Hartford Marathon Foundation, Fader is trusted to build a business and represent multiple brands. Listen to the mix he made exclusively for us at DMS.
DJ DARTH FADER has made edits of the tracks he featured in this mix for DMS.
For more information about DJ DARTH FADER click the links below:
Check out the tracklist after the jump to download all of the edit's he used in this mix. Be sure to check back every Monday for a brand new mix.
1. WMNSTUDIES – Too Damn Dope For Me Ft INOJ (Darth Fader Edit)
2. Charming Horses ft. Grace Grundy – Higher Love (DARTH FADER EDIT)
3. Sons of Maria – You & I (Darth Fader Cutdown)
4. Eden Prince – Senorita (Intro – Clean) (DARTH FADER EDIT)
5. Boogie Vice – Bel-Air (DARTH FADER EDIT)
6. Charming Horses Ft. Jano – Killing Me Softly (DARTH FADER EDIT)
7.Freischwimmer ft. Dionne Bromfield – Ain't No Mountain High Enough (DARTH FADER EDIT)
8. Benny Benassi ft. John Legend – Dance The Pain Away (Eelke Kleijn Remix)(DARTH FADER EDIT)
9. Endor – Tell Me I'm The One (DARTH FADER EDIT)
10.Outkast – ATLiens (BENNYHANA REMIX) (DARTH FADER CUTDOWN)
11.Chris Lake – I Want You (2nd Drop Repeated) (Darth Fader ReWork)
12.Jude & Frank – La Luna (DARTH FADER CUTDOWN)
13.Yas Cepeda & Bang Bang – The Theory (Cutdown)
14.Siege – Crunk
15.Klever – Weak (Cutdown)
16.Conal Flood – Playing Me (DARTH FADER EDIT)
17.Scissors – Pump Up The Jam (DARTH FADER Cutdown)
Podcast: Play in new window | Download | Embed