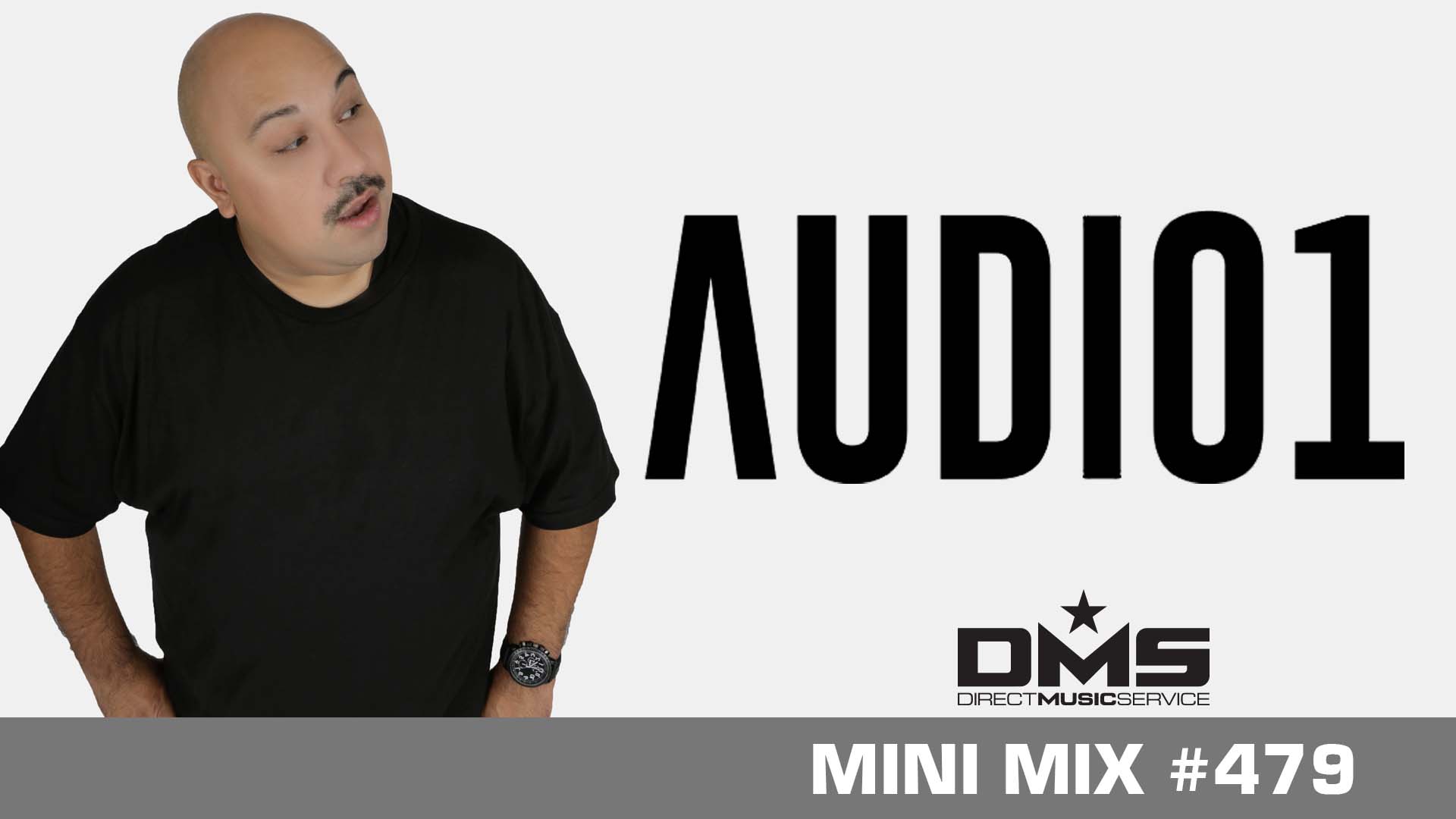 BIO:
AUDIO1 is an influential DJ/producer based in the San Francisco Bay Area. Over his 30+ year career, He has built a reputation as a highly skilled DJ who can adapt his eclectic, open-format style to any room he commands. This has made him one of the most sought-after DJs in the nation. From LA to NYC to Las Vegas and Miami, AUDIO1 has taken his talents on the road to some of the most prominent venues and has played direct support of artists such as Iggy Azalea, Rudimental, Lucas x Steve and more. AUDIO1 is also a renowned producer. His remixes and song edits, which give his sets a unique trademark sound, have been supported by DJs such as Diplo, Dillon Francis and VICE.
AUDIO1 currently works with BEATS4HOPE, A Non-Profit organization based in the SF Bay Area, fostering health, education and solidarity in the music community, plus raising funds and resources for communities in need across the United States. A recent Stroke survivor, He is an outspoken advocate for Stroke Awareness and Health. With his diverse skill set plus his noteworthy career, It's safe to say that AUDIO1 is a force in the music industry.
Make sure to catch his rapid fire DJ sets LIVE on TWITCH at twitch.tv/djaudio
Please visit https://solo.to/djaudio1 for all AUDIO1 social media links & information on how to support AUDIO1 during his stroke recovery.
PLAYLIST:
01. Kandi vs Breathe Carolina x Raven & Kreyn – Don't Think I'm Not (Audio1 Vibes Bootleg)
02. Stromae vs Crunkz x GTA – Alors On Danse (Audio1 Bootleg)
03. Quintino – F Soft Sh_t (Audio1 DMS Edit)
04. Tchami – Buenos Aires (Galantis x Bali Bandits Remix) (Audio1 DMS Edit)
05. Iggy Azalea – I Am The Stripclub (Audio1 DMS Edit)
06. Dua Lipa vs Moony – Don't Start Now x Dove (Audio1 Bootleg)
07. Anitta ft Cardi B & 24kGoldn – Me Gusta (Audio1 GHR Uptempo Remix / Bootleg)
08. Bad Bunny & Jhay Cortez vs NuKey – Dakiti x Antidote (Audio1 Fiesta Latina Bootleg)
09. Aretha Franklin vs SIDEPIECE – A Deeper Love x Acrobatic (Audio1 Summer Bootleg)
10. Armand Van Helden vs Starkillers x Mercer – Funk Phenomena (Audio1 2021 Bootleg)
11. Tiesto & Dzeko ft Preme & Post Malone – Jackie Chan (Audio1 VIP Bootleg)
12. Shouse vs Parkah, Durzo & Met – Love Tonight (Audio1 Summer Bootleg)
13. Bryce Vine ft Jeremih – Baby Girl (Audio1 & REBRND Remix)
14. Bossilera vs DJ Kuba, Neitan & Skytech – I Like Her x Dancing (Audio1 Summer Bootleg)
15. Katy Perry vs TWIN – I Kissed A Girl x Bass House (Audio1 Summer Bootleg)
16. Madcon – Beggin (Audio1 Bootleg)
17. Steve Angello & Laidback Luke ft Robin S – Show Me Love (Dubdogz Remix) (Audio1 DMS Edit)
18. Inayah – Peaches (Audio1 DMS Edit)
19. IamSu and Lil Jon – 880 (Yay Area) (Audio1 DMS Edit)
20. Blxst & Bino Rideaux – Movie (Audio1 DMS Edit)
21. Childish Major – F Yah Job (Audio1 DMS Edit)
22. Sech x J Balvin – La Luz (Fiesta Latina vs PeteDown x DANI Moombahton Bootleg)
23. Sean Paul & Tove Lo vs SWACQ & Willy WIlliam – Calling On Me x Loco (Audio1 Bootleg)
24. Bad Bunny & Nesi vs Kid Kobra – Yo Perreo Sola (Audio1 Moombahton Bootleg)
25. Electric Guest ft Darell – Freestyle (Rvssian Remix) (Audio1 DMS Edit)
26. Karol G – Ay, DiOs Mio! (Audio1 Hacks The Beat Remix)
27. Wisin, Myke Towers & Maluma ft Anitta & Los Legendarios – Mi Nina (Remix) (Audio1 DMS Edit)
28. Cassius – 1999 (Ticklish Remix) (Audio1 DMS Edit)
29. Jarreau Vandal vs Kamaiyah – Bad Things x Get Ratchet (Audio1 Blend)
30. Lil Mosey – Holy Water (Audio1 DMS Edit)
31. Glasses Malone ft The Game & Kurupt – Gangsta Boogie (Audio1 DMS Edit)
32. HVME ft Travis Scott – Goosebumps (Remix) (Audio1 Edit)
33. Lucas & Steve – I Could Be Wrong (Kim Kaey Remix) (Audio1 DMS Edit)
34. Fake Blood – I Think I Like It (Audio1 Bootleg)
35. Drake x Big Freedia – Nice For What (Audio1 Bootleg)
36. Bad Bunny & El Alfa vs Shaun Frank & Hunter Siegel – La Romana (Audio1 Bootleg)
37. SMACK & Luciana – Tik Tok (Audio1 DMS Edit)
38. Swedish House Mafia ft Tinie Tempah – Miami 2 Ibiza (Audio1 Bootleg)
39. Will.I.AM & Britney Spears vs Yves V – Scream & Shout x My Friend (Audio1 Bootleg)
40. Cardi B – Money (Audio1 Remix)
41. Junior Senior – Move Your Feet (Audio1 Bootleg)
42. J Balvin & Willy William – Mi Gente (Audio1 Bootleg)
43. Swedish House Mafia – Don't You Worry Child (FAI-OZ Bootleg) (Audio1 Edit)
44. Swave, Hitta & Vanilla Ace – When In Miami (Audio1 DMS Edit)
45. Christina Aguilera – Ain't No Other Man (Audio1 2021 Bootleg)
46. Will.i.AM & Justin Bieber vs Ellis – #thatPOWER x Need U Now (Audio1 Bootleg)
47. 2Elements – Cry For You (Audio1 DMS Edit)
48. Tiesto – The Business (MOSKA Bootleg) (Audio1 Edit)
49. Timbaland, Nelly Furtado & Justin Timberlake – Give It To Me (Brandon Remix) (Audio1 Edit)
50. Chocolate Puma – Rebels On The Run (Dub Mix) (Audio1 Edit)