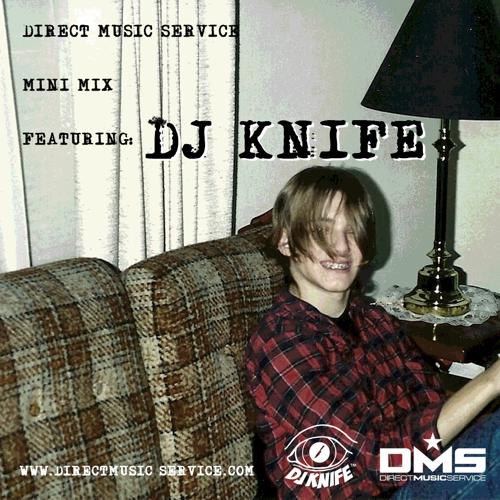 Mix #261 we bring you DJ KNIFE from Boston, Massachusetts. DJ Knife holds several residencies in Boston, including the Boston Music Award winning Fresh Produce, a party thrown in conjunction with Undergroundhiphop.com and PVRPLE, another party thrown in conjunction with popular blog Steady Leanin. Knife also curates the music and bookings for Good Life, a venue in downtown Boston, which is also known for it's annual DJ Appreciation Night, where DJs from across Massachusetts gather once a year to network with each other. Listen to his exclusive 90's rock mix he made for us at DMS.
For more information about DJ KNIFE click the links below:
SNAPCHAT: djknife
Check out the tracklist after the jump with links to download all of the edit's he used in this mix. Be sure to check back every Monday for a brand new mix.
1. (DJ Knife Intro)
2. Possum Kingdom (Drew Pierce Short Edit) – The Toadies
3. Everything To Everyone (19Sixty Short Edit) – Everclear
4. Been Caught Stealing (Menegaux Short Edit) – Jane's Addiction
5. Self Esteem (Quick Edit) – The Offspring
6. Right Here, Right Now – (Menegaux Short Edit) – Jesus Jones
7. Good (DONK Short Edit) – Better Than Ezra
8. Pretend We're Dead – L7
9. I Think I'm Paranoid (Menegaux Short Edit) – Garbage
10, Glyserine (Jurd & DJ Snow ReDrum) – Bush
11. Laid (Fusemania Quick ReDrum) – James
12. Red Right Hand (Mojo Filter Carne Creep Out – VM Edit) – Nick Cave & The Bad Seeds
13. Buddy Holly (Short / Redrum) – Weezer
14. December (DONK Short Edit) – Collective Soul
15. All I Want (DONK Quick Edit) – Toad The Wet Sprocket
16. 1979 (VM Short ReDrum) – Smashing Pumpkins
17. Dreams (Diggz Short Edit) – The Cranberries
18. Celebrity Skin (19Sixty Short Edit) – Hole
19. Seether (19Sixty Short Edit) – Veruca Salt
20. Longview (19Sixty Short Edit) – Greenday
21. Flagpole Sitta (Drew Pierce Edit) – Harvey Danger
22. No Rain (VM ReDrum) – Blind Melon
23. My Hero (ReDrum / Cutdown) – Foo Fighters
24. Plush (DONK Edit) – Stone Temple Pilots
25. Say It Ain't So (Short Edit) – Weezer
26. Pepper (VM Quick Edit) – Butthole Surfers
27. In The Meantime (Rowshay Short Edit) – Spacehog
28. I Don't Want To Wait (ReDrum / Super Short Edit) – Paula Cole
29. People Of The Sun (Drew Pierce Edit) – Rage Against The Machine
30. Hey Man Nice Shot (Snow & Bassix Short Edit) – Filter
31. When I Come Around (Super Short Edit) – Greenday
32. Father Of Mine (Flat Intro / Short Edit) – Everclear
33. Lightning Crashed (DONK Quick Edit) – Live
34. Counting Blue Cars (DONK Edit) – Dishwalla
35. Desperately Wanting (Short / ReDrum) – Better Than Ezra
36. Daughter (ReDrum / Short Edit) – Pearl Jam
37. Kiss Me (19Sixty Short Edit) – Sixpence None The Richer
38. I Swear It's The Last Time (Flat Intro / Super Short Edit) – Less Than Jake
39. Disconnected (Short Edit) – Face To Face
40. Molly (Sixteen Candles) (ReDrum Intro) – Sponge
Podcast: Play in new window | Download | Embed