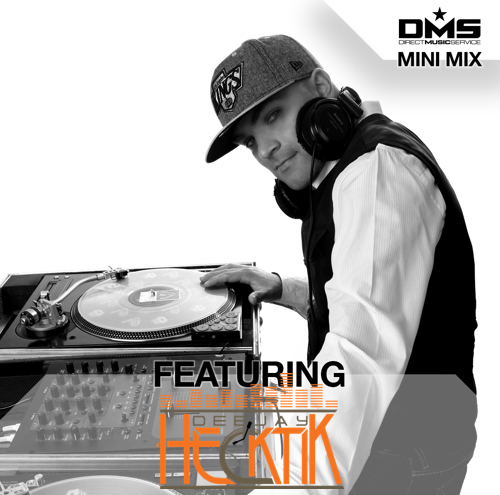 Based in Carpinteria, Ca. Dj Hecktik is a Professional full time working mobile DJ specializing in private events & radio mixshows. He currently mixes & can be heard Monday-Friday at 7am on "Q95.9" FM w/the Rico & Mambo morning show, Ventura Counties Hip-Hop & RnB hit station.
In 1993 at the tender age of 13, Josh Stanford, better known as DJ Hecktik, began to experiment with DeeJaying at Church. His youth group leader, Kris Watanabe, was a turntablist style DJ. Attending youth group classes in exchange for DJ & scratch lessons it helped change Hecktik's life for the better and so did the music. Once he started he never stopped.
Performing at weddings, music festivals, private parties, events, nightclubs up and down the central coast "Hecktik" has been featured in DJ Times Magazine, and Scratch Magazine, as well as being highly sought after as a radio mix show producer.
Hecktik isn't your average deejay. The Carpinteria native may perform on stage at some of the hottest Beer Festivals across California, performing for sold-out audiences, his presence can be felt everywhere – from the crowd at his events to the airwaves & beyond using platforms such as Radio & SoundCloud.
His Radio experience is hard to match. He has also performed on the following radio stations: KVYB 103.3 "The Vibe", KPAT "95.7 the Beat", KISS 107.7FM, and 91.9 KCSB.
DJ Hecktik has established himself as one of California's Central Coast's most skilled and popular turntablist as well as club DJ.
Hecktik's combined experience as a radio show producer and large venue performer has helped solidify his reputation as a high energy and professional talent. From the studio to the stage, Hecktik has performed and recorded with hip hop legends like KRS-1, Too Short, Migos, T-Pain, DJ Mustard, GZA from Wu Tang Clan, Tha Alkaholiks & more. From corporate events and chic wedding receptions, DJ Hecktik works to create a custom music atmosphere keeping guests and clients moving.
For more information about DJ HECKTIK click the links below:
Check out the tracklist after the jump with links to download all of the edit's he used in this mix. Be sure to check back every Monday for a brand new mix.
Track List:
1. Custom Promo Intro/ DJ Hecktik
2. Fresh Levels (Jolyon Petch & Dazz Bootleg)/ Charles J. vs Avicii
3. Wake Up The Wolves – Marshmello, Selena Gomez, Avicii
4. Strip That Down (Transition 124-106)/ Liam Payne ft. Quavo
5. Love U Better (Clean)/ Ty Dolla $ign ft. Lil Wayne & The Dream
6. Rake That Thang Up (Mr. Collipark Blend)/ Yo Gotti vs Juvenile x Lil Wayne
7. Back That Thang Up – DJ Scooter Twerk Remix/ Juvenile
8. Mi Gente – J Balvin & Willy William
9. One Dance (Party Favor Ting Remix)/ Drake ft. Wizkid & Kyla
10. Havana (Dexterious Re-Drum)/ Camila Cabello
11. Bodak Yellow (Joe Moore Toneplay 105-63)/ Cardi B vs Justin Timberlake vs Clipse
12. No Limit – Transition/ G-Eazy
13. No Limit – G-Eazy, Boombox, Cartel, Wolfilk
14. Rockstar (Cabuizee & Nikki X Dubstep Remix)/ Post Malone ft. 21 Savage
15. Move Bitch – Ludacris ft. Mystikal & I-20
16. Lemon (Flat Intro/ Hype/ Rihanna 1st)/ N.E.R.D. Ft. Rihanna
17. #MsJackson (Goshfather & Jinco TW&RK Weapon)/ Outkast
18. Work It (Acapella)/ Missy Elliot
19. Work It (Dreamer x Ian Munro Edit)
20. In Da Club – Delirious & Alex K Puro Pari Remix/ 50 Cent
21. Slide (dEVOLVE Moomahton Remix)/ Calvin Harris ft. frank Ocean & Migos
22. Unforgettable (Kameo Remix)/ French Montana ft. Swae Lee
23. La Vida Es Un Carnaval (Doc & Jes Moombahton Remix)
24. Yeah (Acapella)/ Usher ft. Ludacris & Lil Jon
25. Blurred Lines – Robin Thicke ft. Pharell
26. Kiss – Prince
27. Milkshake Kiss- Kelis vs Prince
28. Uptown Funk (Extended Mix)/ Sly5thAve & The ClubCasa Chamber Orchestra
29. Uptown Funk (Acapella)/ Mark Ronson ft. Bruno Mars
30. Formation (DJ Scooter Mix/ Acapella In)/ Beyoncé
31. Gucci Gang/ Lil Pump
32. Crew/ Goldlink ft. Brent Faiyaz & Shy Glizzy
33. Work Hard Play Hard (Valentino Khan & ETC!ETC! Remix)/ Wiz Khalifa
34. Work Hard Play Hard/ Wiz Khalifa
35. I Get The Bag (Belles Hype Intro/Outro)/ Gucci Mane ft. Migos vs DJ NASA vs Wiz
Podcast: Play in new window | Download | Embed