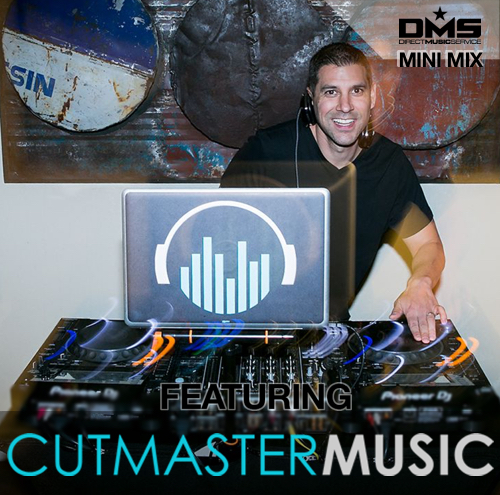 Mix #320 we bring you CUTMASTER CHRIS. Chris Romero is the founder and owner of Cutmaster Music in Albuquerque, New Mexico. Chris has shared various nightclub residencies in and around the Albuquerque and Santa Fe areas with a wide range of styles from Hip-Hop/R&B and Top-40 roots, to Tropical Latin genres focused on Salsa, Merengue and Bachata. And Chris is one of the most highly sought out and referred DJs in the Albuquerque area, working almost every weekend of the year.
More recently he has focused on the private event scene in New Mexico, bringing unique setups, atmosphere and effects to the Albuquerque event scene. Bringing an elegant club vibe to your private event was always the focus and raising the bar and pushing barriers are what Cutmaster Music is about. Check out this exclusive mix he did for us at DMS.
For more information about CUTMASTER CHRIS click the links below:
Check out the tracklist after the jump with links to download all of the edit's he used in this mix. Be sure to check back every Monday for a brand new mix.
1. Kiss It Swalla – Derulo vs Rihanna (Danny Diggz Blend)
2. Jump Jump – Kriss Kross (Cutmaster Chris Edit)
3. The Next Episode – Dr. Dre (Caked Up Twerk Remix)
4. Blister In The Brain Break
5. Roc Boys (Beware) – Jay-Z and Punjabi MC (Tall Boys and Capitol Trill Remix)
6. Mi Gente – J Balvin & Willy William (Cedric Gervais Remix)
7. Mama Said 24KO – LL Cool J vs Bruno Mars (Cutmaster Chris Mashup)
8. Party Up – DJ Scooter Super Short Cutmaster Chris Edit
9. Intergalactic – Beastie Boys (Mister Gray Moombahton Edit)
10. Wannabe Intergalactic – Cutmaster Chris Edit
11. Get Low – Dillon Francis & DJ Snake (Reid Stefan Moombahton Remix)
12. Launch The Shots – DJ Jean vs Sikdope ft. Lil John (Bootleg)
13. Pony 2016 – Ginuwine vs Sick Individuals (Throwback Edit)
14. Crazy Train Remix – Ozzy Osbourne vs DJ X-Mind
15. Momentum – Don Diablo
16. HUMBLE – Kendrick Lamar (Vtech Hype Intro Cutmaster Chris Edit)
17. HUMBLE Walk – Kendrick Lamar (Cutmaster Chris Edit)
18. God's Plan Goin Down – Drake (Scooter Blend)
19. God's Plan Snap Yo Fingas – Drake vs Lol John (Scooter Blend)
20. Lemon – NERD ft. Rihanna
21. Closer to the Lemon – Chainsmokers vs NERD vs Clipse (Cutmaster Chris Edit)
22. Nothin – NORE (DJ Scene Remix & Flip)
23. Last Resort – Papa Roach (DJ Stoggi Twerk Remix)
24. The Choice Is Yours – Blacksheep (Kisa Soul Mix)
25. Havana vs Buzzin – Camila ft. Young Thug x Mann (Marc Mac Hype Blend)
26. On The Next Episode – Snoop Dog Dr. Dre vs Ummet Ozean
27. Trouble – Luciana & Nytrix (Brohug Remix)
28. R. Kelly x Delirious & Alex K x Rick Ross x Ricky Remedy x Spider x Steve1der – Ignition x Trap Trap Trap (Spryte Segue)
Podcast: Play in new window | Download | Embed