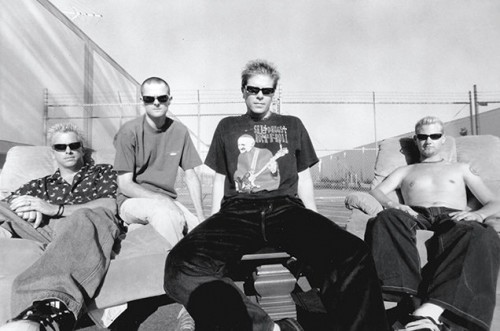 New York-based Round Hill Music has acquired the recorded masters of '90s pop-punk hitmakers The Offspring, both diversifying the company's catalog and giving greater exposure to the record label business model.
While terms of the deal were not disclosed, sources suggest Round Hill paid about $35 million for the catalog, which includes its Columbia Records master recording catalog and the band's music publishing covering its entire career, including its time on Epitaph, which retains the ownership to those albums.
According to sources, the catalog produced $3.1 million in net publisher or net label revenue, also known as gross profit. While some sources say that Round Hill paid a multiple of at least 12 times or higher, the above numbers work out to an 11.3 times multiple.
"We have some masters like the Bush catalog and records from developing artists like London Souls and Nigel Hall, but we wanted more exposure and you won't get a more high-quality catalog than The Offspring," says Round Hill Music chairman/CEO Josh Gruss. "Also, we didn't have some American punk rock in our publishing portfolio, and this acquisitions helps broaden the genre representation."
While The Offspring catalog has album sales of nearly 17 million, the Columbia master recording albums acquired in the deal have sales of about 10 million units across six studio albums and one Greatest Hits album, and including 1997's Ixnay on the Hombre (1.4 million albums sold); 1998's Americana, featuring radio smash "Pretty Fly (For a White Guy)" (5 million); and 2000's Conspiracy of One (1.2 million). The band's best-selling breakout record, Smash, remains owned by Epitaph.
"We felt that having the right caretaker for our catalogue, both the masters and the publishing, is incredibly important to the future of our career," Offspring singer and guitarist Dexter Holland said in a statement. "Round Hill understands that we are continuing to perform and record and that the visibility of our past is critical to our future."
"It's been a long and successful journey from the garage in Southern California to world wide musical achievements in all aspects of their career," Round Hill Music president Neil Gillis said in a statement. "Round Hill Music is honored to have The Offspring as part of our growing family."
Because of streaming, recorded masters produce more predictable revenue income, like publishing, Gruss says, who adds that now is a better time to buy such assets instead of waiting for streaming to breathe new life into the record business, after which assets such as these will increase in price.
The deal now qualifies as Round Hill's biggest acquisition, along with its acquisition of the song catalog of Big Loud Shirt Industries, which sources say traded hands for a similar $35 million payment.
Since opening its doors in 2011, Round Hill has invested about $100 million in acquisitions, which now total about 15,000 songs at a value of roughly $140 million, according to sources. In 2014, it received commitments for $200 million for its Round Hill Music Fund 1. Sources now say it will try to raise another $350 million in commitments from institutional investors for a second fund. Gruss declined to speak about Round Hill's capital raising efforts.
DOWNLOAD ON DMS