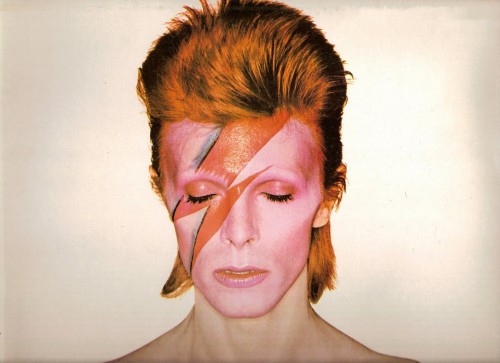 David Bowie, the legendary singer-songwriter and actor, has died after a long battle with cancer. He was 69.
The artist's Facebook page announced the news, with the singer's rep confirming his death to Rolling Stone. "David Bowie died peacefully today surrounded by his family after a courageous 18-month battle with cancer," the statement read. "While many of you will share in this loss, we ask that you respect the family's privacy during their time of grief."
One of the most original and singular voices in rock & roll for nearly five decades, Bowie championed mystery, rebellion and curiosity in his music. Ever unpredictable, the mercurial artist and fashion icon wore many guises throughout his life. Beginning life as a dissident folk-rock spaceman, he would become an androgynous, orange-haired, glam-rock alien (Ziggy Stardust), a well-dressed, blue-eyed funk maestro (the Thin White Duke), a drug-loving art rocker (the Berlin albums), a new-wave hit-maker, a hard rocker, a techno enthusiast and a jazz impressionist. His flair for theatricality won him a legion of fans.
Along the way, he charted the hits "Space Oddity," "Changes," "Fame," "Heroes," "Let's Dance" and "Where Are We Now?" among many others. Accordingly, his impact on the music world has been immeasurable. Artists who have covered Bowie's songs and cited him as an influence include Nirvana, Joan Jett, Duran Duran, Smashing Pumpkins, Marilyn Manson, Arcade Fire, Oasis, Ozzy Osbourne, Morrissey, Beck, Red Hot Chili Peppers, Lady Gaga, Bauhaus and Nine Inch Nails.
Bowie's son, Duncan, tweeted a photo of his father holding him early Monday morning and wrote, "Very sorry and sad to say it's true." The singer's frequent collaborator, Brian Eno, tweeted, "Words cannot express."
"David Bowie was one of my most important inspirations, so fearless, so creative, he gave us magic for a lifetime," Kanye West wrote on Twitter. "I pray for his friends and family."
The singer had kept his cancer diagnosis secret, even to some of his closest friends. Ivo van Hove, who directed Bowie's off-Broadway play Lazarus, said, though, that the singer had told him early on that he was battling liver cancer and would not be able to attend all of the rehearsals. "Bowie was still writing on his deathbed, you could say," van Hove told NPO Radio 4, via DutchNews.nl. "I saw a man fighting. He fought like a lion and kept working like a lion through it all. I had incredible respect for that."
Bowie was born David Robert Jones on January 8th, 1947 in a working-class London suburb. His father, Heywood Jones, worked in promotions for a charity that benefitted children and his mother, Margaret Mary Jones, was a waitress. A fight with a classmate when he was young left the singer with a permanently dilated left pupil. He began learning saxophone at age 13 and attended a high school that would prepare him for a career as a commercial artist. By 20, he had spent time at a Buddhist monastery in Scotland and dabbled in theatrical troupes.
Once he began focusing on music, he played with groups like the King Bees, the Manish Boys (who once recorded with Jimmy Page) and Davey Jones and the Lower Third. He took on the Bowie pseudonym – after the knife – in an effort to prevent confusion with Monkees singer Davy Jones. Bowie put out a folky self-titled album in 1967, but it charted poorly in the U.K. and not at all in the U.S. That would change with his next release.
The album contained the hit "Changes" and its threat/promise "Look out you rock & rollers/ One of these days you're gonna get older," fan favorites "Oh! You Pretty Things" and "Life on Mars" and songs about Bob Dylan ("Song for Bob Dylan") and Andy Warhol ("Andy Warhol"). (He'd portray the latter artist years later in the film Basquiat.)
It was on 1972's The Rise and Fall of Ziggy Stardust and the Spiders From Mars, though, where Bowie hit his stride. In the role of the titular rock-star also-ran, he innovated a glammy look for himself which he amplified in his highly theatrical live shows where he'd tussle with guitarist Mick Ronson. A far cry from the Sixties hippie idealism he'd come up with, Ziggy was brazen and arrogant, a decadent rogue who was also endearing to fans. In addition to the title track, "Starman," "Suffragette City" and "Five Years" became audience favorites. The album would be certified gold in the U.S. in 1974.
Around this period, Bowie began working behind the scenes for some of his friends. In 1972, he produced and played saxophone on Mott the Hoople's All the Young Dudes album, writing the album's hit title song. That same year, he resuscitated former Velvet Underground frontman Lou Reed's career by giving him a glam makeover on Transformer. And in 1973, he mixed Iggy and the Stooges' Raw Power. A few years later, during his Berlin period, Bowie would also work on Iggy Pop's solo breakthrough LPs The Idiot and Lust for Life, touring with Pop as his pianist to support the records.
Bowie kept the Ziggy Stardust persona on 1973's Aladdin Sane, which contained "The Jean Genie," "Drive-In Saturday" and a rag-tag cover of the Rolling Stones' "Let's Spend the Night Together." Pin Ups, Bowie's covers album, followed later that year. He'd attempted to retire Ziggy for 1974's cabaret-ready Diamond Dogs, but the overwhelming glamminess of "Rebel Rebel" suggested otherwise.
He did an about-face on 1975's Young Americans, incorporating soul, funk and disco into songs like the title cut and "Fame," and he co-wrote "Fascination" with Luther Vandross. It was a risky move, but it reached Number Two in the U.K. and Number Nine in the U.S. He delved deeper into funk on the following year's Station to Station, picking up a well-documented cocaine habit along the way, and scored a hit with the buoyant "Golden Years." The album as a whole, though, signaled a newfound interest in the avant-garde.
It was to be a short-lived transformation, though, as Bowie would disappear to Berlin and dive deeper into experimenting with music and with drugs. Beginning with 1977's Low, which combined art-rock with ambient minimalism, the singer stumbled on an acidic, epic sound, bolstered by collaborating with Brian Eno. The LP contained the U.K. hit "Sound and Vision" and set the tone for his next two records, that year's "Heroes," with its iconic title song, and 1979's Lodger, which contained the hit "Boys Keep Swinging." Minimalist composer Philip Glass would later write a symphony using music from Low.
Bowie quit drugs in the Seventies and emerged in the Eighties with a renewed interest in more radio-friendly music, scoring a Number One hit in the U.K. with "Ashes to Ashes," which continued the story of Major Tom, and the hit "Fashion." Both appeared on 1980's Scary Monsters (And Super Creeps). In 1981, he recorded the duet "Under Pressure" with Queen, weaving his voice with Freddie Mercury's for another Number One in the U.K. and a Top 30 single in the U.S.
In 1983, he put out Let's Dance, which he co-produced with Chic mastermind Nile Rodgers. The collaboration, which included lead guitar work by Stevie Ray Vaughan, proffered the singles "Let's Dance," "China Girl" and "Modern Love." He'd follow these with the hit "Blue Jean," off Tonight the following year. Bowie notched his final Number One in the U.K. in 1985 with a cover of Martha and the Vandella's feel-good hit "Dancing in the Street," a duet with Mick Jagger.
With the exception of the Beatlesesque 1986 single "Absolute Beginners," the rest of the Eighties were less fruitful for Bowie musically. He put out Never Let Me Down in 1987, and closed out the decade as a member of the hard-rock group Tin Machine, which would put out another record in 1991.
Bowie changed his musical output again in 1993 and put out the electronic-influenced Black Tie White Noise, another co-production with Nile Rodgers that proved less commercially successful in the U.S. He flirted with industrial on 1995's Outside, and the following year he was inducted into the Rock and Roll Hall of Fame in 1996 by former Talking Heads frontman David Byrne.
In 1997, he celebrated his 50th birthday with an all-star concert at New York City's Madison Square Garden; Lou Reed, the Cure's Robert Smith, Smashing Pumpkins' Billy Corgan, Pixies' Black Francis, Foo Fighters and Sonic Youth all joined him onstage. He pioneered "Bowie Bonds," a way in which people could invest in him, that year, earning him $55 million. Also, that year, he collaborated with Trent Reznor on the Brian Eno co-produced Earthling, and returned to rock on 1999's Hours…. It's a sound he'd improve upon on 2002's Heathen and the following year's Reality, both of which found him working again with Visconti.
The singer suffered a heart attack in 2004 and subsequently retired from touring, though he'd make occasional appearances, singing with Arcade Fire and David Gilmour, among others. He made his last singing appearance onstage in 2006, where he dueted with Alicia Keys. During this time, he also sang on records by TV on the Radio, Scarlett Johansson and Arcade Fire.
Concurrent with his music, Bowie also enjoyed a long career as an actor. His first starring role was as Thomas Jerome Newton in 1976's The Man Who Fell to Earth, a surrealistic film about a marooned alien attempting to bring water back to his home planet. In 1980, he played the titular role in a theatrical production of The Elephant Man. He played a vampire in Tony Scott's 1983 erotic horror The Hunger and had roles in Julien Temple's 1986 film Absolute Beginners, Martin Scorsese's 1988 film The Last Temptation of Christ and David Lynch's Twin Peaks: Fire Walk With Me. In 1986, he played the shrub-haired, codpiece-wearing Jareth the Goblin King in the puppet-starring musical Labyrinth. Beginning in 2000, he hosted a TV series based on The Hunger, and he played himself in Zoolander and the TV show Extras. He also played Nikola Tesla in The Prestige, lent his voice to SpongeBob SquarePants and played himself in the Vanessa Hudgens film Bandslam.
In 2013, Bowie put out his first album in a decade, The Next Day, which went to Number One on the U.K. chart and Number Two in the States. He had recorded the LP in secret and announced its existence on his birthday that year.
Two days before his death, the singer put out ★ (pronounced "Blackstar"), this time on his birthday. The record reflected the ever-evolving artist's interest in jazz and hip-hop. "We were listening to a lot of Kendrick Lamar," producer Tony Visconti told Rolling Stone of the recording sessions. "We wound up with nothing like that, but we loved the fact Kendrick was so open-minded and he didn't do a straight-up hip-hop record. He threw everything on there, and that's exactly what we wanted to do. The goal, in many, many ways, was to avoid rock & roll."
The artist's latest theatrical foray was the 2015 off-Broadway play Lazarus, which stars Michael C. Hall and continues the story of Newton from The Man Who Fell to Earth. Along with songs from throughout Bowie's career, it also featured new tunes.
Bowie married his first wife, Mary Angela Barnett, in 1970. A year later, Angela gave birth to the couple's son, Duncan Zowie Haywood Jones. The couple would divorce in 1980.
Despite his marriage, Bowie claimed to be gay in the British music press in 1972, and, in 1976, he came out to Playboy as bisexual. He'd later regret the assertion. "The biggest mistake I ever made was telling that Melody Maker writer that I was bisexual," he told Rolling Stone in 1983. "Christ, I was so young then. I was experimenting." He also said he'd never done "drag." He later recanted his unhappiness with coming out as bisexual, saying he didn't like the way Americans put emphasis on it.
In 1992, Bowie married Somali-American model Iman. The couple had a daughter named Alexandria Zahra Jones in 2000.
"He always did what he wanted to do, and he wanted to do it his way and he wanted to do it the best way," Visconti wrote on Facebook after the news of Bowie's passing was out. "His death was no different from his life – a work of art. He made ★ for us, his parting gift. I knew for a year this was the way it would be. I wasn't, however, prepared for it. He was an extraordinary man, full of love and life. He will always be with us. For now, it is appropriate to cry."
DOWNLOAD ON DMS