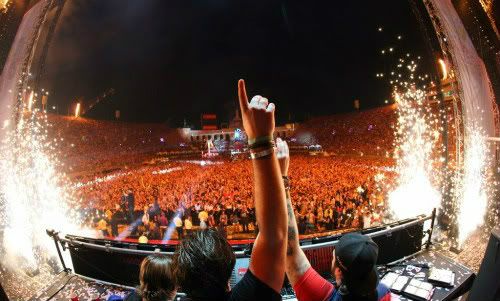 Insomniac, the company behind the three-day Electric Daisy Carnival, says its June festival at the Las Vegas Motor Speedway generated $136 million for Clark County.
According to an economic report released by Beacon Economics, LLC., the festival brought an estimated $8.9 million in tax revenue for the state and local government, the equivalent of 1,400 full-time jobs and $55 million in income for Clark County employees.
"When we decided to produce Electric Daisy Carnival in Las Vegas we anticipated that Las Vegas would experience a significant economic boost as many of our devoted fans are willing to travel to experience the show," said Pasquale Rotella, president and CEO of Insomniac, in the announcement.
The company used surveys from more than 12,000 carnival attendees and data from the promoters to estimate the amount of spending generated for the three-day event.
"The impact we calculated was based on the spending of attendees and on some of the spending of the event promoters themselves," said Jordan Levine, economist and director of economic research at Beacon Economics.
The carnival generated more this year in Las Vegas than it did in 2010 when it was held in Los Angeles because it was previously a two-day event and most attendees for the 2010 event were from California, said Levine, who added that they do not count all of local spending.
Visitor spending accounted for $109 million, Insomniac was responsible for $23 million and local attendees spent roughly $5 million. Carnival guests spent more than $19.5 million for hotels, $16.8 million on food, $10.5 million on transportation, $9.3 million on entertainment, $7.8 million on gaming and $7.2 million in retail purchases. According to Insomniac, early bird tickets for the carnival sold out in less than 36 hours.
The Electric Daisy Carnival, which claims to be the largest electronic music festival in North America, plans to return to the Las Vegas Motor Speedway next June 8 to 10.
"Insomniac has the greatest fans in the world and according to the survey 98 percent of them plan on returning to what promises to be an even more impressive Electric Daisy Carnival 2012," said Rotella.
Advance tickets to next year's festival, as well as hotel packages, will be available for purchase Jan. 3, 2012. A limited quantity of single-day tickets will be available at a later date. Tickets and other announcements can be found on their website. (Read More LVSUN)
As we wait for next years line up Check out these Artists from last years Electric Daisy Carnival here on DMS.