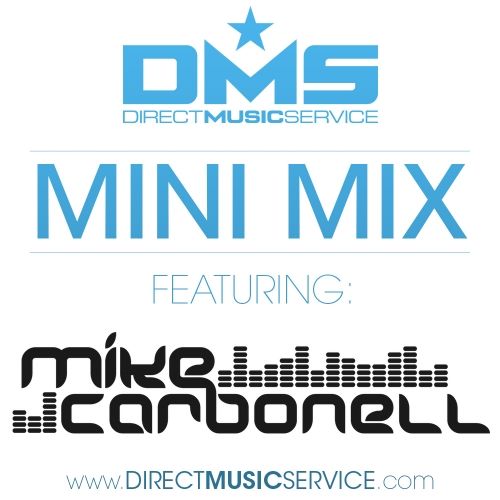 Mix #137 we have DJ MIKE CARBONELL from Las Vegas, Nevada. The Los Angeles native and 17 year veteran spent most of the late 90's and Early 2000's perfecting his craft by winning DJ Battles and creating smooth and energetic sets that keep dance floors moving from LA and Hollywood Nightclubs, to Massives and Electronic Dance Music festivals all over Southern California. Mike Carbonell is now known for his Las Vegas residencies at XS, Tryst, Tao, Lavo, Vanity, Tabu , Hard Rock Pool and 9.85 KLUC 's All EDM mix show "Club 985-AfterHours" every Saturday Night. He can also be found performing every month at elite venues in California from San Francisco, jet setting through LA and Orange County, all the way down to San Diego. Download & Listen to this exclusive mix he made for us here at DMS.
For more information about DJ MIKE CARBONELL click the links below:
Check out the tracklist after the jump with links to download all of the edit's he used in this mix. Be sure to check back every Monday for a brand new mix.
TRACKLIST
1. Fight Night (DJ Woo Wee Mix Blend / Dirty) – Migos x LL Cool J
2. Fight Night (Made Monster Twerk Remix / Dirty) – Migos
3. Hot Nigga (Caked Up Twerk Remix / Dirty) – Bobby Shmurda
4. How to be the Man (Meeaux Twerk Remix / Clean) – Riff Raff
5. Rich Problems (Re-Drum / Dirty / Short Edit) – Que Ft. 2 Chainz
6. Loyal (Mister Gray Bootleg Remix / Dirty) – Chris Brown ft Lil Wayne & Tyga
7. If i Ruled the World (Hot Damage Twerk Remix) – Nas ft Lauren Hill
8. Ripper (Twerk) – Ruen & Mister Gray
9. Main Chick (Reid Stefan Moombahton RMX / Dirty / Intro) – Kid Ink ft Chris Brown & Bunji Garlin
10. 2 On ( Discotech RMX / Dirty / Simo Trans 101-124) – Tinashe
11. Rather Be (Discotech 2am Remix) -Clean Bandit ft Jess Glynne
12. Am I Wrong [Drew Pierce Legacy Bootleg / Short Edit] – Nico & Vinz x Mike Candys
13. Wasted (Drew Pierce Bootleg) – Tiesto ft. Mathew koma x Ummet Ozcan x Darth & Vader
14. Ass Hypnotized (Dirty / Super Short Edit) – TJR ft Dances with White Girls
15. Hit That Booty (Mister Gray Bootleg) – Jennifer Lopez x Iggy Azalea vs Deorro x Dirty Audio
16. Dat Ass!! (Scooter & Lavelle Remix) – Made Monster & Audio Redux
17. Girls on Shoulders ( Original Mix) – Panic City
18. Turn up (Kill The Noise Remix) – Gent & Jawns
19. Techno (Trap) – Yellow Claw, Diplo & LNY TNZ x Waka Flocka Flame