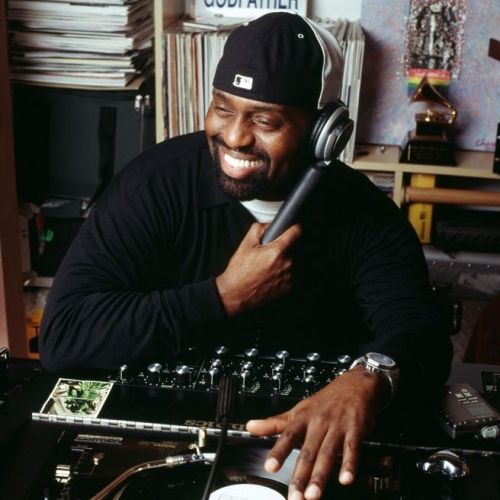 In Chicago, Frankie Knuckles was called the "godfather," not because of any underworld connections, but because he helped build house – a style of Chicago dance music that revolutionized club culture in the '70s and '80s and still resonates around the world today.
Knuckles died Monday at the age of 59, as confirmed by his longtime business partner, Frederick Dunson. More details would be forthcoming Tuesday, Dunson said, who said in an email that Knuckles "died unexpectedly this afternoon at home." In addition to developing the sound and culture of house music, Knuckles would go on to mix records by major artists such as Whitney Houston, Michael Jackson and Depeche Mode.
Knuckles learned his craft as a club DJ in New York City, then moved to Chicago in the late '70s and developed a reputation as one of the city's most influential dance-music tastemakers. He arrived in Chicago just as disco was losing steam. For many, disco literally went up in flames between games of a Chicago White Sox double header at Comiskey Park, when radio deejay Steve Dahl blew up hundreds of disco albums.
"I witnessed that caper that Steve Dahl pulled at Disco Demolition Night and it didn't mean a thing to me or my crowd," Knuckles told the Tribune. "But it scared the record companies, so they stopped signing disco artists and making disco records. So we created our own thing in Chicago to fill the gap."
Knuckles was mentored by the renowned DJ Larry Levan in the early '70s while in New York. "We would spend entire afternoons working up ideas on how to present a record so that people would hear it in a new way and fall in love with it," Knuckles said. "To us it was an art form."
He brought that knowledge west with him to Chicago, where he became known as "the godfather of Chicago house music" at the Warehouse and later the Power Plant. He would extend mixes of soul and R&B records and turn them into dance tracks, introduce new singles being produced by fledgling house artists and incorporate drum machines to emphasize the beat. In addition to building dynamic ebb-and-flow sets that would keep his dancefloor filled from midnight to noon on weekends, he would create theater-of-the-mind scenarios with inventive sound and lighting. "Sometimes I'd shut down all the lights and set up a record where it would sound like a speeding train was about to crash into the club. People would lose their minds."
Knuckles was primarily known as a DJ, but he also played a key role as a tastemaker, de facto talent scout and producer. Knuckles bought his first drum machine from a young Derrick May, one of the founders of techno music, who regularly made the trip from Detroit to see Knuckles at the Warehouse. Knuckles also had a musical partnership with Chicago artist Jamie Principle, and helped put "Your Love" and "Baby Wants to Ride" out on vinyl after these tunes had been regulars on his reel-to-reel player at the Warehouse. He also produced the house classic "Tears" with Robert Owens (of Fingers, Inc.).
House was initially cruder and less polished than disco, a reflection of its blue-collar origins. Knuckles was hardly the only innovator in the scene, as Marshall Jefferson, Ron Hardy, Steve "Silk" Hurley, Farley "Jackmaster" Funk and dozens more also played key roles. By the late '80s, Knuckles and many of his peers were stars in Europe's emerging rave scene.
Knuckles would often joke that he could walk down the middle of the street in Chicago and not be recognized, yet would be greeted by cheering fans when he would arrive at European airports for overseas DJ gigs.
"I wasn't frustrated by that, not at all," he said. "I'm not the kind of person that lives for fame and glory. If I've got a nice, clean home and can put a meal on my table and can entertain my friends, I'm fine. I don't need to see my face plastered everywhere."
Yet he took pride in Chicago's growing recognition over the years as the home of contemporary dance music, celebrated by such mainstream hitmakers as Daft Punk and Paul Oakenfold.
"The people I meet all around the world look at Chicago and the house scene with a new romanticism," he said. "They recognize more than ever that Chicago is the core of where it all began."
In 2004, Chicago named a street after Knuckles where the old Warehouse once stood, on Jefferson Street between Jackson Boulevard and Madison Street. It was a little slice of legitimacy for a style of music that often didn't get much love from the city, which became notorious in the dance community around the world for passing the so-called "anti-rave ordinance" in 2000 that made property owners, promoters and deejays subject to $10,000 fines for being involved in an unlicensed dance party.
Knuckles once reflected on house music's reputation as a soundtrack for hedonism, though much of the dance music he loved had a melancholy flavor, a yearning that evoked gospel and soul. He championed house music that wasn't just about rhythm, but that embraced humanism and dignified struggle. It was in keeping with his belief that the dancefloor was a safe haven for the gay, African-American and Hispanic communities that first embraced him.
"God has a place on the dancefloor," he once told the Tribune. "We wouldn't have all the things we have if it wasn't for God. We wouldn't have the one thing that keeps us sane – music. It's the one thing that calms people down.
"Even when they're hopping up and down in a frenzy on the dancefloor, it still has their spirits calm because they're concentrating on having a good time, loving the music, as opposed to thinking about something negative. I think dancing is one of the best things anyone can do for themselves. And it doesn't cost anything."