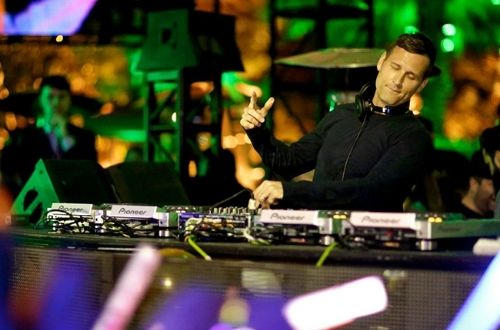 Five years for any nightclub is a milestone. In Las Vegas, it's a lifetime achievement. This past Saturday, Kaskade performed for a sold-out crowd of over 7,000 at the fifth anniversary party of XS nightclub at the Wynn Hotel. A signature cocktail, The Five Star—a concoction of cognac, bourbon, Benedictine liqueur and bitters—caught some attention for its $5,000 price tag. While only half the price of the club's standard signature cocktail, The Ono (which the club has sold 25 of over the past five years), nobody bought The Five Star on Saturday, though it will be available through year. Nonetheless, XS's anniversary was still yet another wild night in Sin City.
Kaskade was one of the first residents at XS and has found a temporary home there again after more than two years at rival club Marquee, where he will return this spring. It's an unusual arrangement for a headlining DJ to go back and forth between two venues in the highly competitive world of Vegas nightclubs where shifts in allegiance and the unveiling of bookings play out like a telenovela in the Vegas press and in fan chatter across the dance music world. If the world's top-earning EDM acts are the stars of these ongoing residency dramas, the clubs' key personnel are often the unwitting co-stars, as XS co-owner and general manager Jesse Waits knows all too well.
Waits is frequently associated in the press with many of his artists and high-profile customers – from Deadmau5 to Paris Hilton. While Waits says such prominence is at odds with his own personal style ("by nature I'm pretty shy," he admits), he also acknowledges it comes with the job as promoter. Earlier this year, longtime XS resident Afrojack made headlines when it was announced he would end his tenure at the Wynn and move to the recently opened megaclub, Hakkasan, a change Waits says was a mutual decision.
"Nick is a really close friend of mine," Waits explains. "Artists need to make changes to grow. I still talk to him monthly and when he plays over there I'll support him. I want to see these guys grow."
Afrojack was the latest in a string of artists to defect from the Wynn's clubs, including Tiësto, Calvin Harris and Steve Aoki. A year ago, XS featured EDM acts four nights a week but has now dropped to two, with trap and hip-hop and open format DJs filling the other two big nights of the week. These changes, according to Waits, are in response to shifts in the market, not, he says, because the Wynn's clubs have been outbid by other venues.
"Every two to three years Vegas [nightlife] reinvents itself," Waits says. "All the nightclubs are doing the same thing right now, they're all doing EDM."
While Waits is adamant he doesn't foresee a complete end to the appetite for EDM at his clubs anytime soon, he acknowledges that the ubiquity of the genre makes it less of a novelty, and thus the focus may in fact shift away from a DJ-centric nightlife experience on the Strip. It's a consideration he and business partner Sean Christie have as they start work on their next venture, an as-yet-unnamed nightclub. .
"We're working on a new club and we're trying to think 'what's the hook,'" Waits explains. "If it's not a big enough club to sustain DJs then what would you do in a scenario like that. Where I like to go is where the girls are at, you know? The people I know and my friends that go out a lot, they all want to go to the same places."
Waits adds, "In the past few years people have been following the DJs but in the future the evolution will be about the customer again."
DOWNLOAD ON DMS